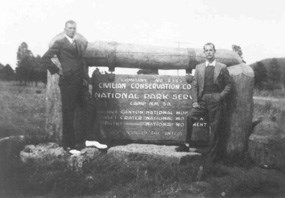 "If they asked me to go, I'd go tomorrow," said Albert Spudy, reminiscing about his days in the Civilian Conservation Corps. Spudy and other men spent part of their youth working at Sunset Crater, Wupatki, and Walnut Canyon as Civilian Conservation Corps (CCC) recruits.
They left their mark on these monuments - in the steps that wind their way to the Island Trail in Walnut Canyon, in the first visitor center that blended impeccably with its surroundings, in the ranger residence at Wupatki that looks as if it belongs to the landscape. Spudy and two hundred other men were members of the Mount Elden CCC Camp located in Flagstaff. They were part of a national effort to, among other things, assist the National Park Service in the development and improvement of roads, trails, and facilities.
The CCC provided a work force to implement the National Park Service's Master Plan. In order to preserve the natural character of a landscape, roads, trails and buildings were designed to blend with the natural setting. Construction materials were quarried on-site. Native materials were used to blend the new with the old. The built environment envisioned by National Park Service landscape architects and implemented by the CCC shaped the visitor experience throughout the park system and still does today. Large parks and small monuments from Grand Canyon, Yosemite and Yellowstone to Sunset Crater, Walnut Canyon and Wupatki all benefited from this great legacy.