Diving in Biscayne National Park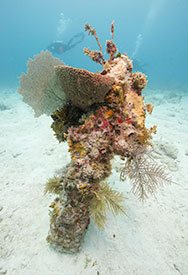 Diver behind a coral encrusted historic anchor, Biscayne National Park
Not far from the sparkle and glitter of Miami is a jewel of a different sort, one inlaid with turquoise water, and studded with miles of coral reef and scattered shipwrecks. Biscayne National Park, 172,900 acres of subtropical wetlands, is a unique blend of sea, coral reef, barrier island, and estuarine environments. As you descend below the water's surface, the blues and green of the surface and sky still dominate, but in darker shades. Here, you are greeted by more than 600 species of tropical fish, many so brightly colored they rival the night skyline of Miami.
The park shares a common border with a well-known marine reserve to the south, John Pennekamp Coral Reef State Park. Because Pennekamp is overrun with people, many divers bypass Biscayne thinking it must suffer from the same overcrowding. The upshot is that Biscayne's coral reefs are in better shape than most of the rest of the Florida Keys, containing some of the only healthy stands of elkhorn coral that still exist in North America. It always gives us hope when visiting this park to see that such an abundance of wildlife and a virtually pristine marine environment can exist so close to a major metropolitan area.
Biscayne National Park and the waters immediately adjacent have many shipwrecks that the diver can explore. The wrecks in the park are in shallow water and are considered benign dives as wrecks go. The most dangerous thing about them is the fire coral-en-crusted parts of the wreck- age. Some wrecks just outside park waters off of Fowey Light were sunk as artificial reefs and are more or less intact thus offering the opportunity for penetration. These wrecks are in deeper water, 60 feet or more, and require more expertise than the wrecks in the park. All the wrecks in the park waters are protected as cultural resources, and it is against the law to remove any artifacts from them. Remember, resources in the park are protected so future generations can visit them and have the same enjoyable experience you had.
Biscayne National Park maintains a website with more information on their Maritime Hertiage Trail.
Fishing regulations are found here: http://www.myfwc.com/fishing/saltwater/recreational/
Link for prohibited species is found here: https://www.flrules.org/gateway/RuleNo.asp?title=MARINE
The mooring buoys may be referenced is http://www.nps.gov/bisc/planyourvisit/mooring-buoy-locations.htm
BASICS
Location: At top of Florida Keys, 45 minutes south of Miami Airport. Access by private or concessionaire boat
Skill Level: Beginner-advanced
Access: Boat only
Dive support: Homestead, FL
Best time of year: June and July
Visibility: Poor to excellent. (Clear days 50-100 feet; windy 10-20 feet)
Highlights: Coral reefs, varied marine life, shipwrecks, warm water
Concerns: Currents, fire coral, lionfish
Rules and Regulations
Dive Site Map
Dive Overview
Divers and snorkelers are rarely disappointed here, swimming in warm clear waters while exploring the 25-mile-long coral reef bathed by the Gulf Stream. It is easy to reach-it's only 45 minutes south of the Miami International Airport-and there are plenty of accommodations in Florida City and Homestead; only a 15-minute drive from the park visitor center at Convoy Point.
All dives in Biscayne require a boat for access, and launching, dockage, and fuel facilities are available at county-run Homestead-Bayfront Park, immediately adjacent to the Convoy Point visitor center. Fortunately for those visitors without their own boat, the park concessionaire operates two boats that service both snorkelers and divers*. Dives are geared to satisfy both the beginner and the advanced diver.
The dives in and around this park range from beginner snorkeling on shallow reefs to advanced drift dives on the edge of the Gulf Stream in 100 feet or more of water with currents in excess of two knots. Wreck diving is also available. Be sure to match your planned dive with your abilities.
Stay away from the shallow coralline areas when it becomes choppy. Wave surges can bounce you into shallow coral stands causing damage to the delicate organisms and leaving you with nasty, slow-healing cuts.
East of Angelfish Creek and a ways out to sea stretches this reef, which ranges in depth from being barely awash to lying 35 feet under. Near the middle mooring buoy are spectacular stands of elkhorn coral usually filled with schools of grunts and snappers.
Remember that coral here is fragile. Swim around it as though you were finning through an expensive china shop. Simply touching the corals can cause them to die. It is a sad irony that even the most environmentally sensitive divers cause damage to the resources they appreciate. In the middle of a coral canyon near the middle mooring buoy, you may find a tripod with a scientific instrument attached. Please do not touch or disturb. It is collecting data used to monitor water quality on the reef.
Swimming the length of the reef area, a diver will encounter a diverse bottom topography that includes isolated large brain coral heads and coral canyons that are fun to explore. Everything from the smallest coral polyp to the occasional shark can be seen on a dive. Visibility varies greatly depending on the wind and sea state as well as the tide. If it is calm and sunny, or if an east wind has blown Gulf Stream water in over the reef, you can expect visibility to be 50 to 100 feet. If it has been rough for a few days, the visibility can drop to 10-15 feet. When calm, it is a great place for snorkelers and scuba divers to swim together-a nice plus for diving parents with younger children.
*Important Note as of August, 2013
Biscayne National Underwater Park, the park's sole concessioner, has ceased operations. Boat tours and rentals are unavailable. We apologize for this interruption in service. The park is working to make options available to access and explore the park.
Dive Sites
SPONGE FANTASY
This site is almost due east of Ball Buoy Reef, on the edge of the Gulf Stream and along the eastern boundary of the park. Head out to about 60 feet of water and look to the south. When you line up with the whistle buoy that marks the southeastern corner of the park, you will be very close to the site. Caution: the currents out here can really rip. Be sure your boat is anchored securely and that you swim up-current at the beginning of the dive. An alternative is to make this a drift dive, but be sure you know how to do this properly.
The reef here has deep surge channels in a regular pattern called a "spur-and- groove" formation. The reef is covered with large, wildly shaped basket sponges, some of them big enough to hide a diver. The shapes of the sponges comprise a living Rorschach test. You will see characters, body parts, gnomes, and anything else you might care to share with your psychiatrist. The swift currents of the Gulf Stream usually keep the water out here especially clear, and large eagle rays, sharks, and other pelagics cruise the reef. The depth of a dive can range from 55-95 feet before you run out of sloping reef and hit sand bottom.
ROCKY REEF
Rocky Reef is roughly semicircular. The opening of the circle is toward the mainland, and the sandy area in the center offers a good place to anchor. There are now three mooring buoys at this site so use them, if available. If not, be sure to put your anchor in the sand, not the coral. The concessionaire runs trips to this reef, but because it is not marked on the park maps, other boats rarely visit, leaving it relatively pristine.
The sandy area inside the reef is 35-40 feet deep. As you swim towards the ocean, it gets shallower, with depths of 20-25 feet. On the north side of the inner area, there is a small wall that drops from 20 feet down to 38 feet. It is undercut with small coral caves and frequented by large schools of small bait-fish. The area under the ledges has schools of copper sweepers and several large moray eels; on top of the ledges, brilliant red sponges grow. Thanks to the good light penetration, the colorful ledges and schools of fish make this area a feast for the underwater photographer.
This is probably one of the best shallow reef dives in the park. Snorkelers will have plenty to see from the surface although most of the action is just a bit farther below and the area is a bit on the deep side. If you try a night dive along the drop-off; you'll have the sensation of being in an underwater theater.
ELKHORN REEF
Elkhorn Reef gets it name from the large stand of elkhorn coral that dominates this patch reef. This site is in the same inside reef line as Ball Buoy but about three miles north of it. It is smaller and shallower than Ball Buoy, dipping only to about 25 feet with much of the reef being in less than 15 feet of water. Ideal for snorkelers, but again, be very careful as Elhorn is a particularly fragile coral.
PACIFIC REEF
As with all barrier reefs right on the edge of the deep ocean, Pacific Reef is susceptible to heavy wave action. The bulk of the reef is, however, in shallow water ranging from 8-35 feet. The spot is well marked by a large light tower that warns mariners of the dangerous shallows. This site is good for snorkelers and for shallow-water scuba diving. Living coral structure here is not as intricate as many of the protected sites inside the barrier reef.
The Pacific Reef deep area starts on the boundary of the park in about 60 feet of water. Here, scuba divers will find and attractive series of ledges that run out to about 90 feet before dropping off to a sand bottom. The concessionaire takes divers out to a small wall in this area, where a drift dive allows the diver to be swept along by the Gulf Stream, moving effortlessly past the scenery. Divers must be experienced; because they must be able to clear their ears and descend rapidly to the bottom before being blown off the reef by the current.
AJAX REEF, LONG REEF, STAR REEF, BREWSTER REEF, AND FOWEY ROCKS
These barrier reefs fringe the ocean side of the park. All have very shallow areas offering opportunities for snorkelers. A tall light tower marks Fowey Rocks similar to those on Pacific and Triumph reefs. With a depth sounder you can find good places to scuba dive on the deep side of anyone of these sites. Mostly, you will find reefs with surge channels running east and west in a spur-and-groove formation. The depths range from about 45 to about 100 feet, where the reef generally falls off into a sand bottom.
BACHE SHOAL
Just west of Triumph Reef is an inside reef area marked by a light tower. It has five park mooring buoys nearby and is suited to both snorkelers and scuba divers. The area is defined by a group of large coral heads that lie on the east side of the light and extend both north and south. The tops of these heads can be as shallow as three to four feet but the sand surrounding the heads can reach a depth of 30 feet. A diver will see large brain and star corals usually bedecked with headdresses of gorgonians, sea whips, and sea fans. The area is a tropical fish-watcher's paradise. Schools of parrot fish and blue tangs glide in and out around the coral and the occasional trumpet fish hangs motionless blending into the sea whips, giving the visitor a sense of being immersed in a large aquarium.
MANDALAY
This ship was in service as a windjammer charter boat with charter guests on board when it wrecked on January 2, 1966, and came to rest on Long Reef. Thanks to a serious navigational error and rough seas, the captain had the 128-foot steel schooner some 20 miles off course and, just before dawn, sailed the ship hard aground. Salvage was attempted but some seams broke and the ship sank not far from where she had first struck the reef. There are mooring buoys and do not anchor in the wreck, as anchors tend to tear the wreck up and cause it to deteriorate. This site is a wonderful place for snorkelers and for beginning scuba divers. It is tough to find more than twenty feet of water; most of the area is only 10 to 15 feet deep. The wreck rises up off the bottom almost to the surface. The structure is loaded with fish and delicately covered with gorgonians and fire coral. Large schools of yellowtail snapper cruise in and out around the wreckage and on several occasions we have spotted small nurse sharks cruising the area.
19th WOODEN SAILING VESSEL (THE SCHOONER)
If it were intact, this would be a fine example of a pre-1900 wooden schooner. What you see on the bottom, however, is a pile of stones used as ballast. The rest of the wreck has either deteriorated or is buried under the sand. The site is marked with a park-mooring buoy and is shallow enough for snorkelers. As this is a historic wreck, remember not to remove any artifacts.
LUGANO
This wreck is in about 20-35 feet of water south of the Mandalay and out on the edge of the park boundary on Long Reef. There are three white park mooring buoys on this site. The Lugano was a 350-foot British steamer on its way to Havana from Miami when, slightly off course in high seas and strong winds, it went aground in March of 1913. The passengers and cargo were taken to Key West, but a salvage attempt was unsuccessful. All usable materials were stripped from the ship and the hull was allowed to sink. The wreckage is fairly flattened, consisting mostly of deck plates and some machinery, but the outline of the ship is clearly visible. Fish are plentiful here as they use that the structure for cover. A couple of moray eels and at least one octopus call the site home. It is an excellent site for novice divers. On our dives on this wreck we did notice quite a few scorpion fish lying about on the wreckage so be careful where you put your hands: their dorsal fins have poisonous spines.
Numerous rules and regulations from several different agencies apply here. The area is bordered on the south by John Pennekamp Coral Reef State Park and is surrounded by the Florida Keys National Marine Sanctuary, so rules from both of these governing bodies as well as the National Park Service can apply depending on where you are diving.

It is unlawful to remove anything from a shipwreck.
In areas where game taking is allowed, all the State of Florida fish and game regulations apply.
Fish or marine life collecting is not permitted.
It is unlawful to take lobsters in the creeks or bay, even when they are in season.
Taking or damaging coral in any way is illegal. It is unlawful to put an anchor in coral.
Always use mooring buoys when they are available

When boating in Biscayne National Park use current charts and NOAA chart #11451
Last Updated: October 24, 2013