Diving in Yellowstone National Park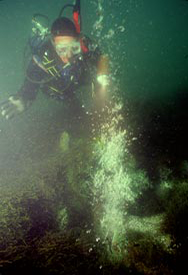 Scientific diver hovering over an underwater vent
Covering 2.2 million acres of Wyoming's northwest corner, as well as adjacent strips of Montana and Idaho, Yellowstone National Park encompasses plateaus and ranges, geysers and lakes. Rolling mountains encircle sweeping meadows and grasslands, forming vistas painted in warm tones-especially yellow, thanks to golden wildflowers and to the parks namesake. The area's rampant geothermal activity creates sulphurous byproducts, which result in "yellow" stone. Interspersed in this primeval landscape are pockets of civilization and development.
A chamber orchestra tunes up at the hotel while just outside the window an osprey laboriously wings by, clutching in its talons a fish plucked from Yellowstone Lake. Two miles away park visitors idle their engines in a line 60 cars long hoping to get into a campground. Reading their faces is like skimming a series of short stories on frustration and irritation.
Yellowstone is a study in contrasts, a place of great natural beauty where urbanites and suburbanites crowd together hoping to get away from it all and not always succeeding. Some meet Nature halfway at the elegant Lake Hotel, others go a little farther, camping out or hiking into the backcountry. Within the park are hundreds of geysers and hot springs, dozens of waterfalls and canyons, bear and bison, thousands of elk, and even some wolves. Nowhere else in the Lower 48 do as wide a range of large animals come into close contact with humans in an unstructured setting.
Some other parks can claim more acreage, but Yellowstone is the "big mama" of National Parks, having been signed into existence by President Ulysses S. Grant in 1872. Until the National Park Service was finally formed in 1916, the U.S. Army managed the park. If you ever wonder about the origin of those funny-looking hats rangers wear, look at a picture of a World War I army uniform for a clue.
BASICS
Location: Northwest Wyoming
Elevation: 7,783 feet
Skill level: Intermediate-advanced
Access: Shore or boat
Dive support: Jackson, WY. Cody, WY
Best time of year: July and August
Visibility: Poor to moderate (10 to 30 feet)
Highlights: Clear water, thermal vents, dramatic geology
Concerns: cold water, thermal vents, and altitude
Rules and Regulations
Dive Site Map
Dive Overview
The basic feeling of this park extends beneath the surface of the lakes. The water feels crisp and cold to the touch, much like the sharp morning breeze that touches your face on a sunny Yellowstone day. The lake water is clear, the bottom sediment softly rolling except where the same sort of geothermal features that dot the land are submerged. The temperature of Yellowstone Lake in July and August ranges between 40° and 60°F.
Many visitors are surprised to discover how much submerged land is within the park's boundaries. Yellowstone Lake is one of the largest high altitude lakes in the world, covering 125 square miles at an elevation of 7,733 feet. Yellowstone is not the sort of place you would list as the ultimate diving destination for a cross-country trip but if you live nearby, or are passing through with your scuba gear, it is worth considering. Depending on what turns you on, the diving ranges from fair to quite good.
Dive Sites
FIREHOLE RIVER NEAR THE FALLS (ELEV. 8,200 FEET)
The Firehole River flows out of the hills just west of the Upper Geyser Basin where Old Faithful gushes. Thermal vents take the chill off the water here, making this a pleasant wetsuit dive. At Mystic Falls the water drops 10 to 15 feet and swirls back upon itself as in a washing machine. If you know how to dive in a river, you might consider diving here. Be sure to strip away any extraneous gear that might hang up in a current, and pull down the hydraulic (the force and direction of the water) hand over hand.

The river here has a maximum depth of about 35 feet. Say hello to the trout, and when you're tired of fighting the current, let it blow you downstream about 100 yards to water calm and shallow enough for snorkeling. This is where you should begin if you haven't had experience diving in current. tom.
YELLOWSTONE LAKE
MARY BAY
Mary Bay forms the northeastern-most corner of Lake Yellowstone. This is a geothermally active area that makes for a unique diving experience: steady streams of bubbles vent all around you from the rock-and algae-covered bottom. You don't just feel the differences in heat, you can see them. Similar to haloclines that result from horizontal layering of different density waters in other environments, these vertical columns of heated water cause visual distortions. It's like mixing vinegar and oil and ejecting the mix towards the surface amidst the bubbles of gas. You can obtain artsy photos of your dive buddies by positioning them around the column in imaginative ways. The fact that the lake is known for these thermal features provides an excellent excuse for any photos you bring back that might have been out of focus. Approach this dive by boat or as a shore dive from the Mary Bay picnic area on the northeast side of Yellowstone Lake.
WEST THUMB GEYSER BASIN
This is probably our favorite area to dive in Yellowstone. Although it could be dived easily from shore, you must approach it by boat from the Bridge Bay Marina because the park staff will not want you marching off the boardwalk provided to accommodate foot traffic. Interesting thermal features and drop-offs fringe the shore all along here. To the north, the drop-off becomes quite deep near where a stream enters. From the flying bridge of a boat, you can see this deep blue zone as you leave the shore.
One admonition: you will see vents here similar to the ones on land. Enjoy them from a prudent distance. This is not the place to tie off a cave reel and go exploring. The water inside these conduits goes from dry-suit cold to scalding within a space of inches. Also, you may have noticed from similar vents on land that they surge from time to time. Imagine Old Faithful under water, and keep your distance.
LAKE HOTEL
The Lake Hotel rests on the northernmost shoreline of Yellowstone Lake. Diving off the dock outside the Lake Hotel can be moderately interesting. It's accessible without a boat and there are the remains of a small launch and some old cribbing for docks.
E. C. WATERS
Resting partially on the shore of Stevenson Island are the remains of E. C. Waters, a 125-foot steamer brought to the park in 1902 in order to carry tourists around the lake. The park refused to license the vessel and it sat idle on its moorings until 1921 when ice on the lake pushed the ship up on the beach on Stevenson Island. The machinery was stripped, then in 1930 the hull was burned. What remains today makes a good place to snorkel as the water is only about eight feet deep. This wreck has been surveyed by the Park Service and is protected by the park as a historic site.
A diver-down flag must be displayed while divers are in the water.
Antiquities are protected in National Parks, be they on land or underwater. If a piece of the old dock "comes loose in your hands," you will be cited.
There is no game-taking on scuba.
Diving is closed from Fishing Bridge downstream for two miles in order to protect a trout-spawning area.
Check with a ranger before diving to insure you know the latest about local conditions or closings.
Last Updated: October 30, 2012