Diving in Virgin Islands National Park and Virgin Islands Coral Reef Monument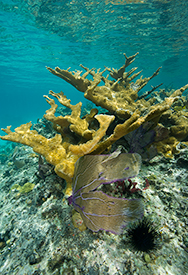 Healthy stand of Acropora and Gorgonia
Ahhh. The Virgin Islands: St. Croix, St. Thomas, and St. John, set in the warm Caribbean Sea roughly 1,050 miles east of Miami and a few hundred miles south. They are also just east and south east of Puerto Rico.
These are verdant, steep-sided mountain islands fringed by pearl-white beaches. When light catches the surface of the sea just right, it looks like a field of diamonds nestled in a meadow of blue turquoise. Waves lap at the shore, the steady trade winds rustle in the palm trees, and the smell of fresh sea air is laced with jasmine and frangipani.
A sense of "paradise found" must have overcome Laurance Rockefeller when his yacht first dropped anchor off St. John in the 1950s. In 1956, he bought more than half the island and donated some 5,000 acres to the federal government to help create a national park, and today over half of the island is included within it. The park now encompasses some 12,900 acres, which include most of the island's beaches, the remains of centuries-old sugar plantations, large tracts of undeveloped tropical forest, and some 5,650 acres of surrounding waters. Hassel Island, in a harbor on nearby St. Thomas, is also under the park's jurisdiction.
St. John, born of violent volcanic eruptions and uplifting some 60 million years ago, was molded into its present form by the gradual building of coral reefs. The coral reefs that fringe the island are also the secret to the picture-perfect beaches. Over centuries the slow methodical work of waves generated by the trade winds, and the ceaseless nibbling of coral-feeding fish reduced the once-living colonies of marine organisms into sand...white sand-sunglasses required! The marine environment of St. John offers divers and snorkelers visiting the park a range of underwater experiences that can satisfy the timid as well as the adventurous.
The United States purchased the Virgin Islands from Denmark in 1917. The islands were managed by the U.S. Navy until 1931, at which time the Territory of the Virgin Islands was formed. Today the Territory is administered by the U.S. Department of the Interior and the Territorial government of the Virgin Islands.
The virgin islands has a checkered past as a tourist destination. On densely populated St. Thomas tensions between "down-islanders" (anybody from the Antilles not native to the Virgin Islands), "continentals" (people from mainland U.S.), and native Virgin Islanders is too often palpable. Of course, we are generalizing; many perfectly delightful people hail from St. Thomas, but visitors may be disappointed if they anticipate the warmth and friendliness that characterize some tropical islands.
BASICS
Location: Virgin Islands in the Caribbean Sea about 1,070 miles east and south of Florida
Skill level: Beginner-intermediate
Access: Boat or shore
Dive support: St. John, St. Croix
Best time of year: Anytime is good Visibility: Excellent
Highlights: Coral reefs, abundant marine life
Concerns: Strong currents
Rules and Regulations
Dive Site Map
Dive Overview
The reef ecosystem in this park is under constant threat from the sheer number of visitors that slip into its waters every year. It is imperative, if this resource is to survive for another generation to enjoy, that each and every visitor do his and her part to protect it. About 30,000 boats anchor in this park per year. If everyone is diligent about protecting the reef and sea grass bed from anchor damage, then 30,000 boats may be acceptable, but if they are careless, they will destroy the environment they came to enjoy.
The hardest thing about diving in and around this park is deciding where to dive. A person could go to a different site every day for months before doing re-runs. Numerous commercial operators in St. John offer scuba and snorkel trips in and around the park. Complete facilities offer everything from lessons to equipment rental. These operators usually run two trips a day on dive boats ranging from 25 feet on up.
A few areas lend themselves to beach dives and numerous areas offer good shore-side snorkeling. But the best scuba-diving sites both inside and outside the park are accessed by boat.
Diving in and around the Virgin Islands National Park in St. John runs the gamut from beginning snorkel to advanced scuba. The beginning snorkeler will appreciate the many protected shallow bays with small patch reefs. The advanced scuba diver will be challenged by areas with strong currents and deep reefs. Between these two extremes there is much to satisfy all experience levels and desires. Attempting to cover every dive site in and around the park would be impractical and lessen your own sense of discovery. Instead we will provide a representative sample.
When you take the ferry from St. Thomas to Cruz Bay on St. John, be sure to visit the National Park visitor center. You will find all the books, maps, and information you need to get the most out of your visit. Several of the rangers are divers and can offer good local information on diving in the park. Many of the local dive operators have brochures available here. If you are diving on your own, plan your dive site by weather conditions. This will save you a long drive or boat ride to the wrong place.
Dive/Snorkeling Sites
TRUNK BAY UNDERWATER TRAIL
This is the most noted snorkel site in the park though not the best. One of the first underwater trails in the world, it was once an area of lush corals and multitudes of tropical fish. International publicity made Trunk Bay one of the most heavily visited underwater sites anywhere. This popularity continues today and has turned Trunk Bay into a classic case of a "sacrifice site" in resources management parlance. Much of the coral is now dead or dying. It still provides an interesting experience to the neophyte to tropical waters. But divers used to vibrant coral growth and unspoiled reefs will be disappointed. The area is restricted to snorkeling and most of the trail is in less than 15 feet of water. It is a clearly marked, 656-foot (200-meter), self-guided tour. Access is by boat or by auto to the well-developed visitor area at Trunk Bay. There are changing rooms, bath- rooms, picnic areas, and a snack bar. Lifeguards are on duty here from 9 A.M. to 4 P.M. It may not be the best site to visit today, but it's worth snorkeling if only for its historical significance to recreational diving.
MINGO CAY
Mingo Cay is the middle of a set of three cays just outside the park's boundaries. They are a short boat ride from Cruz Bay. All three offer great dives. A dive JB made off the western end of Mingo was memorable because we drifted through a well developed coral canyon for about 20 minutes attended by a school of squid and a large barracuda that seemed equally fascinated with the experience. The squid would dance up and over coral heads and then disappear only to show up suddenly just two feet away staring with huge black nocturnal eyes. For the whole dive, the barracuda, John, and the squid choreographed their swim peacefully. The toothy beast never did carve lunch out of the squid.
Good scuba diving starts in 15 feet and continues out to 65 feet. At this point, the coral stops and a sand bottom takes over. Reef cover is heavy and healthy. Although the area abounds with smaller tropicals, we have found a surprising absence of larger fish, an absence accounted for, perhaps, by the fish traps we noted in the area.
CONGO CAY
Congo Cay is about one half mile outside the park boundary. The diving along the western end of the island, around Congo Point, and just along the inside edge of the cay is fantastic, but you do need to be aware of tidal currents. Less experienced divers can find lush reef in the 20-35 foot range along the inside western portion of the cay. For experienced divers, the area off the southeastern tip of Congo Point has a wall-like drop from the surface down to about 35 feet, at which point the heavy coral growth, including some magnificent plate corals, continues down to 80-90 feet. You might well see some larger fish-rays and pelagics-as you are on the edge of open ocean. On one of several dives JB made here, a squadron of spotted eagle rays winged by, out in the blue water.
CARVAL ROCK
This rock juts up out of the ocean just east of Congo Cay. If you are an experienced open water diver, it is another dive that should not be missed. There are strong currents in the vicinity of the rock, and it takes careful planning to make this dive properly. You can swim through one of the cuts to the outside of the rock, head up-current to the north-east tip, move inside and let the current carry you back inside to your boat. In the spring and early summer, large schools of tarpon feed on baitfish around the rock making for some exciting underwater action. The sight of 30 or more large tarpon, brilliant silver sides flashing like underwater lightning as they tear into a solid blanket of bait fish, is one you are not likely to forget. The bottom here drops off fast on the outside to 70 feet, then gently slopes out to just over 100 feet.
WATERLEMON CAY
This dive site, suitable for both scuba divers and snorkelers, can be reached by foot or boat. The cay is a very small island that sits at the mouth of Leinster Bay just a bit of a swim from Leinster Point. A swim area marked off around the cay provides a boat-free area for snorkeling and water entry. The best scuba diving area is north on the ocean side of the island. Here you will find numerous isolated coral heads including some spectacular stands of pillar coral. The fish life around these coral heads is mostly small tropicals, but these are prolific and make for good fish-watching right along the shore. Just inside of the cay in Waterlemon Bay is another good area for snorkeling. You'll need a jeep to get to this one. The road access to this site is the same road to the Annaberg Sugar Mill ruins. Park at the sugar mill ruins and walk down the trail (a washed-out road) about 10 minutes until you reach Waterlemon Bay. Hike along the shore to a beach opposite the cay, or snorkel out along the shore. Be aware that currents sometimes sweep out to sea in this area.
HAULOVER
If you continue east from Waterlemon Cay, just after Mennebeck Bay there is an area inside the park that runs from Gowed Point along the shore into a large bay. Its name, Haulover, derives from the fact that it has the narrowest and lowest area on the island, and in the old days people would haul their boats across it. The west shore of Haulover is good snorkeling. The reef runs from right on shore out to about 15 feet of water.

Beyond, there are isolated coral heads and sand out to about 35 feet and then another nice reef area starts and continues out to a depth of 50 feet. Along the deeper part of this coral ridge you may see some nice black coral trees. This coral ridge continues on to the east following the contour of the island. The next big bay farther east is Newfound Bay. Here the reef is very well developed with a coral wall that starts at about 25 feet and continues down to about 60 feet. There are coral caves and overhangs and the occasional black coral tree at the greater depths.
This shore is open to prevailing winds and can get quite choppy. Keep this in mind especially if you are snorkeling in shallow water. Not only can you damage the coral by breaking it, you can seriously injure yourself by trying to walk on it.
EAGLE SHOAL
Eagle Shoal, outside the park, should not be missed by advanced divers. This mound of coral rises from deep water to within a couple of feet from the surface. The area is full of coral caves and channels that teem with copper sweepers and small baitfish. The baitfish will bunch up in a tight ball like bugs around a light and try to hide in one of the coral caves while jacks dart in to feed, sending them scattering like chaff in the wind. Because this area is so exposed to the open ocean on all sides, it is one of the best places to see sharks and manta rays.
The best way to dive Eagle Shoal is with a dive charter that is planning to visit the site. It is hard to find without local knowledge and is best dived with someone familiar with the lay of the bottom.
SALTPOND BAY
Accessible by boat or car, Saltpond Bay is a good snorkeling reef in very protected water. The reef fringes both shores and there are also some isolated coral patches in the middle of the bay. Take care to avoid the bottom if you come in by boat (also see "Rules and Regulations").
TEKTITE
Named for a famous underwater research lab that was located here, Tektite, which is located in Great Lameshur Bay, is reached by boat and can either be snorkeled or scuba dived. The snorkeling is best right along the shore. The reef runs out from the shore to about 50 feet where it becomes isolated coral heads and sand. The area that borders the sand has good relief, offers interesting scenery, and is inhabited by tropical reef fish. The area is protected and is suitable for all levels of divers.
Diver-down flag must be displayed while divers are in the water.
No diving in designated swim areas.
No collecting of natural or cultural resources including coral or artifacts.
Observe Virgin Islands territorial rules and regulations regarding the taking of game and fish.
No spearfishing.
No anchoring on coral or sea grass; boats must use park mooring whenever available; no anchoring in South Shore bays, Salt Pond Bay.
Last Updated: September 4, 2013