Diving in Redwoods National Park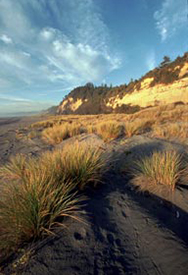 Redwood Coastline
The park's name heralds its main attraction. But although giant trees are the focus, they are hardly the only natural treasures to be found here. The park, in association with three adjacent California state parks forms both a World Heritage Site and an International Biosphere Reserve. Such status indicates that the people of many nations cherish the values of the resources held in this area. A quiet stroll through one of the redwood forests or a hike on the coastal trail along the unsullied seven-mile stretch of Gold Bluffs Beach will put to rest any doubts as to why Redwoods is so special to so many.
The offshore areas are particularly rich in sea life because the California current works with the prevailing onshore wind to cause upwelling, bringing deep nutrient-rich waters to the surface. This is both good and bad news for divers. The good news is there is a lot to see underwater. The bad news is it is hard to see it because the abundant phytoplankton clouds the water.
BASICS
Location: Northwest California on Oregon border
Skill level: Beginner-advanced
Access: Shore or boat; Reading Rock is only accessible by boat
Dive support: Crescent City and Arcata
Best time of year: May-October
Visibility: Moderate to excellent
Highlights: Marine life (anemones, starfish); spearfishing
Concerns: Strong currents, great white sharks
Rules and Regulations
Dive Site Map

Dive Overview
Diving in and around this park is a poor second to land exploration, but if you are a die-hard diver or have the time after enjoying the spectacular natural attractions on land, a few places are worth checking out. There is a lot of diving here, but most of it is for game-taking rather than sightseeing.
Dive Sites
READING ROCK
This site is outside the park waters about five miles north of Orick and a little more than three miles off the beach in the Gold Bluffs area. Accessible only by boat, this rock island rises up out of the ocean, forming walls and ledges that provide the best diving in this park. If you dive this area be very aware of strong currents and changing weather conditions. It is in open ocean with no protection if the weather kicks up. Good diving depths range from 40 feet to over 100 feet. The depth drops off faster on the south and west side of the island where the sea floor can reach depths of 200 feet. Fed by nutrient-rich currents, the marine life is prolific. This island is also a sea lion hangout so you are likely to be approached by curious sea lions on your dive.
When we visited a local dive shop to ask about diving this site the man in the shop sort of rolled his eyes and said, "So you want to know about Reading Rock? Well, it is wild diving out there. It is a sea lion hang out and you know what that means. ...right?" Before we could answer he continued..."It means sharks, pal- big ones...like I am talking the great white kind!"
Before we made our exit, we had to ask one more question. "Have you ever seen one of those great white sharks when you have been out there diving?" "Well, no, but I know they are around." You can judge for yourself, but it is worth considering that sharks, all kinds, have a gustatory interest in sea lion hang-outs.
WILSON CREEK BEACH
This shore dive is right off Highway 101, south of Crescent City at the mouth of Wilson Creek. It is just past the Redwoods Youth Hostel as you head south. There is a parking area right on the beach in the cove at the mouth of Wilson Creek. The diving is around the rock islands offshore. The beach entry is easy as long as it is calm. If there is a big surge, there can be a very strong under-tow, making this an undesirable site. When it is calm, it can be a good dive. The day we were there the visibility was only about eight feet due to heavy surge. The bottom is rocky and slopes down to about 50 feet.
SMITH RIVER
This site is a great freshwater dive in an underwater gorge carved out by the Smith River. The site is located off Highway 199 north out of Crescent City just past Jedediah Smith State Park. It is outside state and federal park lands but is in the Six Rivers National Forest.
Just before the turn-off marked South Fork Road there is a dirt parking area on the right. Behind this is an old road, now just a trail, that leads down to a nice beach on the river. This is where you should enter the water to start your dive. Swim upstream toward the bridge and you will find yourself in a dramatic underwater canyon bordered on both sides by sheer granite walls with interesting outcroppings. The water is blue-green and crystal-clear. The canyon is about 45 feet deep. During a dry autumn day when we dived the area, the flow in the river was negligible, and it was easy to swim against the current. During times of high flow it might not be so easy. Common sense will probably keep you out of trouble here. If the river is a raging torrent, the dive should be avoided. If the water looks more like a lake than a river, jump in and enjoy.
Continuing north up Highway 199, we spotted several more areas in the river that might make interesting drift-snorkel dives. Again, consider this only during time of low flow.
Diver-down flag must be displayed while divers are in the water.
Divers must follow all California game-taking and licensing regulations.
The rules and regulations for diving in and around the Redwoods follow those set forth by the State of California. There may be some exceptions in federal park waters where no game-taking is allowed. Divers who plan to take game in these areas should check with the local park authorities for any special rules or area closings.
Last Updated: September 5, 2013