Diving in Pu'uhonua o Honaunau National Historical Park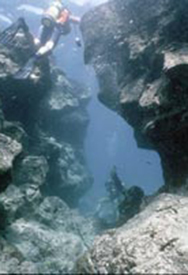 Vintage images of Diving at Pu'uhonua o Honaunau
Any place that oozes black rock needs to be taken seriously. The Big Island of Hawaii, edged on its southern end by ebony beaches formed by pulverized lava, is a ruggedly beautiful piece of paradise. One of the most dynamic places on earth, the island is visibly forming around you each day--enlarged in some places by lava flows, and gradually reduced in others through tectonic subsidence.
Hawaii's isolation (the island group is farther away from a major land mass than any other in the world-at least 2,000 miles in any direction) has allowed it to develop unique natural and cultural forms. Polynesian voyagers, traveling in huge outrigger canoes, and navigating by the stars, first landed at the southern end of the Big Island about A.D. 600. They found no land animals, but brought with them pigs and small dogs, as well as taro and coconut seedlings. Gradually, the immigrants spread out to the other seven islands, driving an earlier group of people, probably Marquesans, from the island of Kauai (a people whose fine stone work can still be seen there).
In January of 1778, British navigator Capt. James Cook, having set out from Bora Bora in December across uncharted seas, sailed his small ships the Discovery and the Resolution into Waimea Bay on Kauai, and was greeted by canoes paddled by people he immediately recognized as Tahitian. Cook returned a year later after exploring the coast of Alaska and British Columbia. This time, when he landed in Kealekekua Bay on the Big Island of Hawaii during the festival honoring the harvest god Lono, a thousand canoes circled his ship in welcome. His ships, under full sail, and his mariners-bearded and dressed in 18th-century fashion-must have appeared miraculous to the Hawaiians, who feted them and treated Cook as a god.
The awe afforded gods didn't last for long. Hawaiian women who consorted with the sailors certainly realized they were human. And when Cook's two ships returned to Kealekekua Bay just after they'd left-because the Resolutions mast had broken in a storm-the Hawaiians realized these sailors weren't gods after all. Cook was drawn into a dispute with Hawaiians who had stolen one of his boats, and the Hawaiians killed him.
A powerful young warrior and nephew to the king of the Big Island most likely was at the royal enclave on the Kona Coast when Cook was entertained there. His name was Kamehameha, later called Kamehameha the Great, and 12 years after Cook's death, he defeated in battle the heir to the island. Kamehameha offered him as a human sacrifice to the gods and set out to conquer the other islands. Kamehameha died in 1819, and by the 1820s trading schooners and whaling ships with sailors carrying venereal diseases and smallpox were a constant presence in the islands. The overall native population, estimated at 300,000 by Captain Cook, had dropped to 50,000 by the mid-19th century. Missionaries followed the seamen; after them came cattle ranchers, sugar and pineapple companies, and finally, tourists.
BASICS
Location: Kona Coast, Big Island
Skill level: Intermediate-advanced
Access: Boat and shore Dive support: Kona
Best time of year: Year round, but winter can be rough
Visibility: Good to excellent (30-80 feet)
Highlights: Marine life, sea caves
Concerns: Surge close to shore
Rules and Regulations
Dive Site Map
Dive Overview
Although some of the better known diving spots on the Big Island happen to be offshore in the vicinity of National Park Service units, this is not all good news. The two parks on the Kona Coast were both established specifically for the preservation of remnants of Hawaiian history and culture. Recreational use, including diving is more tolerated than encouraged, and anyone using this area must be sensitive to the feelings of the native people, who consider this spot of sacred significance.
There is a snorkeling beach off the north side of the Keauhou Beach Hotel between Kailua-Kona and Pu'uhonua o Honaunau (Kahaluu Beach County Park) where divers may check the fit of their skin-diving gear, have a relaxing swim, and see a sample of the reef fish, that frequent Pu'uhonua o Honaunau.
Here is a sampling of what we have seen along this section of the Kona Coast: moorish idols, trunkfish, tang, and many members of the surgeonfish family with razor-sharp natural scalpels that emerge from the base of their tails should you make the mistake of grabbing at them. The unicorn fish, whose name hints at its striking appearance, is common here, as are sergeants, trigger fish, several species of butterfly fish, wrasses, and a lot of multicolored "Wha-zats?"
Part of the special appeal of these parks is that so much natural beauty shares such small space with so much that is culturally and historically meaningful. Pu'uhonua o Honaunau is slightly south of Kealekekua Bay where, as noted above, Captain Cook was killed, and north of Hookena where British author Robert Louis Stevenson wrote the short story, "The Bottle Imp" in 1893. The site of Pu'uhonua o Honaunau is a sacred ceremonial area of the ancient Hawaiians. It means in English "place of refuge at Honaunau" and is where defeated warriors, or those under death penalty for looking at a royal person could achieve a level of security and peace-if they could get there, and getting there, by swimming dangerous currents, was never easy. Diving is prohibited here.
At the Big Island sites, you'll walk on two types of lava along the shore. One is ropey pahoehoe, the other, ragged, bumpy a'a lava formations. The pahoeoe is smooth and more pleasant to walk on, but occasionally it gives way under one's weight, causing nasty scrapes.
Dive Sites
Remember you are diving off a sacred historic site. The park asks that you do not exit the water, leave dive gear, or sunbathe directly off the pahoehoe lava in front of the place of refuge (across from the Two Steps entry site). Entry and exit by divers is permitted in the park at the picnic and backcountry area south of "Place of Refuge" itself.
Although you are welcome to use the park for entry it is advisable to check with experienced local rangers on water conditions on any day that appears marginal to you.
TWO STEPS
Many local divers feel this is the best shore diving on the Kona Coast and from our limited local experience, we agree that is would be hard to beat. Just outside the entrance kiosk of the park you will see two rough blacktop roads to the right. Divers take the second of these and drive to a roughly defined parking area. This boat ramp and dive staging area is just outside the park's boundary. On weekends this parking area can be quite crowded, and it may be necessary to drop off equipment and have one person move the car out.
The diving here is excellent for beginners or advanced divers. "Two Steps" refers to a natural entry point, which seems as if it were designed for divers. Swimming straight out from shore takes you over a wide expanse of green-colored coral heads with a large variety of reef fish and occasional sea turtles and mantas. Continuing seaward brings you to a drop-off that immediately takes you to a sand bottom at 70 feet deep and if you follow the line where the coral meets the sand, by swimming to the northwest, you can find water up to 130 feet deep without too much effort. As for what you might see there, the ocean's the limit and this is a lovely benign place in which to explore it.
Diver-down flag must be displayed while divers are in the water.
Regulations at Kaloko-Honoko-hau and at Pu'uhonua o Honau-nau are the same as those for the state of Hawaii. Ask the park ranger for these.
Last Updated: October 26, 2012