Diving at Pictured Rocks National Lakeshore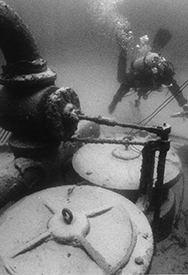 Diver and a steamer engine, Pictured Rocks National Seashore
The same Paul Bunyan-sized, frenzied ice-age sculpture that dabbled at Apostle Islands was particularly inspired when he created pictured rocks on the southern shore of Lake Superior. The carved and colorful rocks for which this 40-mile-long lakeshore is named, extend for about 15 miles northeast of Munising, Michigan. Sand beaches and clear water add to the beauty.
While the National Park Service has a clear mandate to preserve the historic resources within its boundaries, it's particularly gratifying when the local populace takes measures to complement the federal efforts. Adjoining and enhancing the national lakeshore is the Alger Underwater Preserve, established by the citizens of Alger County and administered by the State of Michigan. A discussion of diving at Pictured Rocks National Lakeshore, therefore, necessarily includes the shipwrecks encompassed by the associated state preserve.
BASICS
Location: Northern Michigan
Elevation: 600 feet
Skill level: Intermediate-advanced.
Access: Shore or boat
Dive support: Munising
Best time of year: Summer
Visibility: Excellent
Highlights: Shipwrecks
Concerns: Fast currents, cold water
Rules and Regulations
Dive Site Map
Dive Overview
The geological formations that give the park its name also characterize the underwater environment, which is high relief and dramatically shaped in many areas. But the real diving attraction here is the shipwrecks. The maritime development of southern Lake Superior and the origins of the wrecks are discussed in detail by Patrick Labadie in a Park Service study of Pictured Rocks Lakeshore (see link below). Labadie relates the progression of maritime use from the fur trade through copper and iron ore, lumber and passenger-freight. Vessels related to all these activities are on the lake bottom and open to diving. Munising Shipwrecks by Frederick Stonehouse, should be available locally as should a more general work on the area by Dr. Julius F. Wolff, Jr. entitled Shipwrecks Of Lake Superior.
Twenty-one shipwrecks have been documented within the boundary of Pictured Rocks National Lakeshore; the location of 13 of those wreck sites is known. Forty more vessels sank within the preserve outside the Lakeshore boundaries but for the most part that is bureaucratic distinction of little concern to divers-all of the sites are protected by law, whether state or federal. The park and preserve waters encompass excellent shipwreck diving and with community and federal protection it should remain excellent far into the future.
Munising, on the west on of the lakeshore, has a dive shop as well as an air-fill station. Diving here is a well-established activity, and it is not difficult to find a charter or a boat to rent. When visiting the area be sure to learn and observe park regulations and those pertaining to the Alger Underwater Preserve. Four sites are discussed below, two within the park boundaries and two particularly intact slightly outside the park but still in the preserve.
Dive Sites
KIOWA
The Kiowa belonged to a class of freighters known as "Lakers" because they were built to fit through the old Welland Canal locks; i.e., 253 feet and 6 inches between perpendiculars. It was a casualty immortalized in one of Gordon Lightfoot's songs as "Gales of November"-although the Kiowa finally sank December 1st off what is now known as Twelve Mile Beach Campground Swimming Beach at Pictured Rocks. The wreckage is in 40 feet of water about 400 yards offshore from the middle stairway of the swimming beach. Visible are the windlass on the remains of the bow at the northernmost reach of the site, decking and debris from the machinery spaces, and the propeller shaft-accessed towards the stern.
Divers should be aware that a west-to-east current of variable intensity, which can reach up to 1.5 knots at the surface even if it is not too strong on the bottom, sweeps this area. That is a darned stiff current and not something you would like to surprised by.
MARY M. SCOTT
What are probably the remains of the Mary M. Scott, a schooner built in 1857 that stranded and wrecked in 1870, lie in 15 feet of water 500 yards east of the Sand Point buoy. It's about 500 feet off shore and easily accessible to divers. This is not a primo wreck dive for those looking for structure to penetrate or dramatic machinery, but its age, its marine architecture, and some remaining cargo of iron ore might recommend it to the maritime buff. Several pieces of wreckage in this area of Sand Point have been thought of by sport divers to represent portions of one vessel that they dubbed the Sandpiper. Patrick Labadie and NPS divers determined they were separate wrecks and Labadie's exhaustive research on the area has helped narrow the possibilities so that the vessels are now identified with a reasonable degree of confidence.
SMITH MOORE
Among the most impressive and popular dives in the area (although due to its greater depth, a more advanced diving destination than the Bermuda listed below) this 226-foot wooden bulk freighter sank in 1889 after colliding with another vessel while carrying a load of iron ore. The wreck is located a few hundred yards west of Sand Point in East Channel. Shifting sands from a dynamic bottom in this area have built up around much of the vessel, but it remains a very dramatic dive worthy of any effort it takes to get to it. It is usually buoyed with three orange spheres.
BERMUDA (OR GRANADA, DREADNAUGHT, OR MAYBE ARNOLD)
Part of the fun of diving historical shipwrecks is trying to figure out what ship you are in fact exploring. In this case, theories have abounded, but we defer to Patrick Labadie's conviction that this is; the remains of the canal schooner Bermuda which sank elsewhere but was lost again during the salvage effort. Presently, it lies about a hundred yards northeast of Muskrat Point in Murray Bay. The hull is largely intact on a relatively flat sandy bottom in 35 feet of water. The deck is only 12 feet deep and it is buoyed fore and aft for easy access and mooring by divers. It has become one of the more popular dive spots in the area, can be easily penetrated, and is generally attractive.
DIVE SAFETY
Weather

Lake Superior's unpredictability and rough weather is well known. Follow forecasts given regularly over marine radio and keep a least one person aboard your boat whenever divers are in the water. "When in doubt, don't go out!"
Temperature

Water is cold at all times. At the surface, water temperature rarely reaches 55 degrees Fahrenheit. Below 50 feet, divers can expect 34-37 degrees Fahrenheit temperatures. Protect yourself; a full wet suit is necessary and a dry suit is recommended. Know the effects of hypothermia and treatment.
Exploring Shipwrecks

Divers on shipwrecks can become lost in a maze of confined passages or entangled in debris, wire, and line. Darkness and silt found within wrecks can reduce visibility to zero. We recommend proper training and equipment for diving the wrecks found within the cold and often deep waters of Lake Superior.
Decompression

Cold, dark surroundings and excitement increase possibility of a decompression problem. DON'T PUSH THE STANDARD SPORT OR RECREATIONAL DIVE TABLES. Divers at Isle Royale should dive within the "no-decompression" limits. Deep dives require specific equipment and experience. Divers not so equipped or experienced for depths below 100 feet should not attempt such dives.
Illness

Diving-related illnesses, especially those requiring a re-compression chamber, pose a severe threat to the life of any diver. The closest re-compression chamber is in Marquette, Michigan. Diving parties should be knowledgeable in CPR and emergency procedures for accidents. Carry an adequate first-aid kit including an oxygen delivery system and know how to use them.
Emergencies

Dial: 9-1-1
or, request help over marine radio Channel 16.
At the first indication of a diving illness, call for medical assistance. Do not wait to confirm that there is a problem. Pictured Rocks National Lakeshore maintains procedures for treatment and evacuation of accident victims in conjunction with local EMS responders. The Alger County Sheriff's Office maintains a dive team, which can be activated for search and rescue operations.
Help Us

Help us provide a safe, enjoyable visit for all divers. Report all scuba related accidents, near accidents, hazardous diving situations, or unusual observations to a park ranger as soon as possible. Your suggestions concerning management of underwater cultural resources are encouraged.
Diver-down flag must be displayed while divers are in the water.
No taking of historic artifacts is allowed in any National Park.
All the State of Michigan Fish & Game Laws apply; a fishing license is required.
Use mooring buoys where available.
Last Updated: September 6, 2013