Diving in Ozark Scenic Riverways and Buffalo National River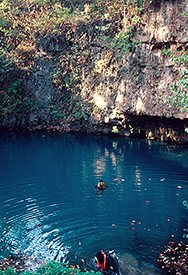 Round Springs, Ozark Scenic Riverways
There is no lovelier place in the United States than the Missouri Ozarks in October. That would probably be the best time of year to dive the area as well, but the secret is out, and a crowd of people will be enjoying fall in the Ozarks with you.
Ozark National Scenic Riverways in Missouri and Buffalo National River across the state line near Harrison, Arkansas are the national park areas with significant bodies of water. But most divers in the area don't go to the parks, but to the lakes such as Bull Shoals and Tellico. Most have yet to discover the underwater appeal of the Current and Buffalo rivers, although both are popular with canoers and inner-tubers.
The major diving here is snorkeling. Much of the year the rivers are too shallow for scuba diving. In the summertime, a drifting snorkel down these rivers can reward the diver with sights of turtles, catfish, blue gill, and other aquatic life. The rivers are dark (tannic) but not cloudy, with a visibility of 10-20 feet, and its possible to find entry sites all along the river.
BASICS
Location: Missouri, Arkansas
Elevation: Approximately 1,000 feet for both parks
Skill level: Beginner-intermediate
Access: Shore or canoe/boat
Best time of year: October
Visibility: Poor to moderate (5 feet to 30 feet)
Highlights: Turtles and fish
Concerns: Boat traffic, underwater snags (trees)
Rules and Regulations
Diver-down flag must be displayed while divers are in the water.
Missouri Fish & Game regulations apply.
Last Updated: October 26, 2012