Diving in Lake Mead National Recreation Area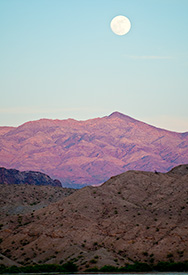 Moonrise over Lake Mohave
There was a time not so long ago when the Colorado River poured down through the mountains, meandered through the desert, and emptied into the sea as rivers are wont to do. Now water reaches the Gulf of California only in wet years. The river has been tamed into a series of desert lakes with much of the impounded water being diverted for drinking water and agriculture in Southern Nevada, Arizona and Southern California.

Hoover Dam, completed in 1935, tamed the mighty Colorado River in order to prevent flooding and to create the largest power plant of its time. The reservoir the dam created, Lake Mead, welcomes more than four million visitors annually. A year after the dam was finished, Lake Mead opened as the first National Recreation Area (NRA) and remains popular today.
Lake Mead NRA is actually composed of two lakes. South of Lake Mead is Lake Mohave, made possible by the Davis Dam built in 1953. Visitors enjoy boating, sailing, kayaking, fishing and many other water activities on both lakes. Of the 1.5 million acres, though, only 13% is water. During the cooler months land-based recreation takes over and visitors enjoy nine wilderness areas and more than 800 miles of approved backcountry roads.  
BASICS
Location: Southern Nevada, Northwestern Arizona
Elevation: Lake Mead: 1,200 feet; Lake Mohave: 700 feet; Las Vegas, 2,000 feet
Skill level: Intermediate-expert
Access: Limited diving by shore, unlimited by boat
Dive support: Boulder City, Las Vegas, NV and Henderson, NV (Note, the primary chamber in Las Vegas is closed)
Best time of year: Good year round
Visibility: Moderate to good (20-50 feet)
Highlights: Interesting rock formations, and sunken boats.
Concerns: Elevation, heat, dehydration, possible high winds, thunderstorms
Rules and Regulations
DIVING TIPS

Drink a lot of fluids. That is always good advice for divers, but in this desert it is critical: the air in your cylinders is dry, and the desert air is just as dry. Sweating in a full wetsuit at 120 degrees F will leave you all the more dehydrated, so drink all the non-diuretic fluids you can. Keep in mind that Boulder City is about 1,300 feet higher than Lake Mead (1,200 feet elevation) and 1,800 feet higher than Lake Mohave (700 feet). Las Vegas is only 400 feet lower than Boulder City. If you are planning to drive back to one of these places after diving, you should be using the 3,000-foot altitude conversions. Lake levels change drastically from year to year. Check with locals for current conditions.

Lake Mead has been the scene of many years of rod and reel fishing so beware of monofilament line tangled amidst the submerged brush. Carry a knife where you can get to it and don't use up that last few hundred pounds of air squirreling about in the brush. There's nothing like trying to cut yourself out of fishing line while holding your breath.
Dive Site Map
Dive Overview
Diving conditions can be quite good in the park. Visibility is always good below Hoover Dam in Lake Mohave, where the 52-degree water released from the dam provides one of the more thrilling swift-water diving experiences in the country. Water temperature is cool, even in the summer.

Lake Mead and Lake Mohave together provide many different kinds of diving experiences, some of which are worth a major detour in a diver's cross-country trek. Some good shore dives are reasonably accessible but to experience their full range you should have a boat (boat rentals are available at marinas on both lakes). The nearest dive shop is in Boulder City and there are plenty of others in Henderson and Las Vegas. The area surrounding the park is mountainous, so divers must pay particular attention to the difference in elevation between the lake and wherever they may be lodging. Decompression planning can be significantly affected. Also, this area is dry, dry, dry. Make sure you keep your innards wet, wet, wet to keep dehydration at bay.
Dive Sites
SCUBA BEACH/BOULDER BEACH
The northern area of Boulder Beach along the jetty has been set aside by the National Park Service for divers. Accessible by car or boat with depth ranges from 30 to 110 feet depending on lake elevation.
GYPSUM REEFS
This site has good drop-offs accessible by boat. Its visual appeal is the white gypsum rock formations that have eroded to form baroque shapes. Be cautious as some of the overhangs are unstable.
WISHING WELL COVE
Located in Boulder Canyon, the narrow waterway between Virgin and Boulder basins, Wishing Well Cove is a popular area, so it should be easy to find just by looking for other dive boats. Sheer, stepped underwater drops and good visibility make this an excellent deep dive. Remember, however, air and water temperatures at Lake Mead can go to opposite extremes. You will need a full wetsuit if you are going deep. At the same time the air temperature can be 120°F in the shade and the surface water 83°F, too warm to cool an overheated diver. We have been put in the difficult position here of having to decide whether an overheated diver should be sent down to cool off or stripped at the surface. This is a knuckle-chewer of a decision that is best avoided.
RINGBOLT RAPIDS
This unique dive is easily the most famous at the park. Experienced diving is strongly recommended. A boat drops you off above the rapids below Hoover Dam and you descend into the flow. You can plummet to depths of 70 feet at considerable speed, an enjoyable if uncontrolled experience. This dive is possible only if water is being released from the dam at a moderate rate. Check with the dive shop operator in Boulder City to find out the release rate. If you are not familiar with the hydrology and peculiarities of the area it is best to do this dive with the assistance of a Lake Mead old-timer or through a Boulder City dive shop. It can be done reasonably safely, but remember that there will be a period of time when the river, and not you, is in control. There have been a few close calls, and worse, executing this dive.
WORK BARGE
An old work boat located in about 30 feet of water four miles below Hoover Dam on the Arizona side, the work barge is interesting to examine but an archaeological site protected by law. Look but don't disturb.
Diver-down flag must be displayed while divers are in the water. Present park regulations also require a towed flag in upper Lake Mojave because of boat traffic.
Nevada and Arizona state fishing regulations are in effect.
A state fishing license is required and is available at most marinas.
Spearfishing is legal only for carp and striped bass. It is also legal to collect oriental freshwater clams which are excellent to eat. Saddle Island (Boulder Harbor side) in 40 to 60 feet of water is a good place to find these clams.
Diving is prohibited in designated boat harbors and areas near dam intakes and other active structures.
Last Updated: June 20, 2014