Diving in Kenai Fjords National Park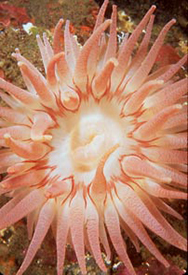 The Gulf of Alaska is home to a variety of anemones
Like most of Alaska, this park has no shortage of beautiful scenery. With mountains, primordial forests, and active glaciers meeting a rugged coast lined with fjords, it would be hard to call this place anything but stunning. The 605,000 acres that make up this park offer a wilderness experience that is second to none. It is hard to believe that in today's picked-over world there is still a place where spectacular waterfalls remain unnamed and canyons lie unexplored.
This park is such a place. The fjords that give this park its name were carved by retreating glaciers, and within them lie hundreds of inlets, bays, lagoons, and small islands. These areas promise spectacular diving with the same abundant sea life that is found in Glacier Bay. All the large sea fauna you would ever care to see can be found in these waters: Stellar sea lions, orcas, gray and humpback whales, Dall porpoises, and sea otters along with halibut the size of a barn door, huge ling cod, and black sea bass. Put all this together with the incredibly diverse invertebrate life that is found in these cold, nutrient-rich waters and you have the potential for exciting diving adventures.
In a park where unnamed waterfalls exist, you can be sure that there are plenty of untouched dive sites. Or, so we hear-we've never been there. The logistics were too difficult and the time too short, but boy do we want to go!

BASICS
Location: Alaska near Anchorage
Skill level: Intermediate-advanced
Access: Boat
Dive support: Anchorage
Best time of year: May-August
Visibility: Poor to excellent
Highlights: Marine life
Concerns: Frigid ocean currents, hypothermia. Extremely challenging logistics for divers. l
Rules and Regulations
Dive Overview
If you want to dive this park, you will need to get yourself and all your gear, which needs to include a compressor, to Seward. (There are dive shops in Anchorage.) Once there you can make arrangements to charter a boat to take you diving in the park. Seward has accommodation and other tourist facilities, but no dive shop and as of this writing no source for filling tanks. To get to Seward you can either drive the 130 miles from Anchorage or fly on one of the daily commuter flights. During the summer there is both bus and train service to Seward from Anchorage. The park's headquarters is also in Seward right off Route 9.
When diving in this area you must be very vigilant about the tidal currents. Just as in Glacier Bay and most of the Pacific Northwest, the tidal exchange is tremendous and causes phenomenal currents. If you charter a boat in Seward the chances are that the skipper will know about the currents as they apply to fishing but may not have a clue about how they can affect divers or how and when to dive certain areas. You should also be prepared for a wide range of weather possibilities. Preparations for this would include making sure the vessel you hire is capable of withstanding very rough weather and a range of clothing to wear onboard the boat to accommodate the weather extremes.
Diver-down flag must be displayed while divers are in the water.
The park advises checking in with a ranger if you plan to dive.
Alaska State Fish & Game regulations apply.
State fishing license required. Divers must carefully follow the Marine Mammal Protection Act and avoid any harassing behavior toward marine mammals.
Last Updated: October 26, 2012