Diving in Kaloko-Honokohau National Historical Park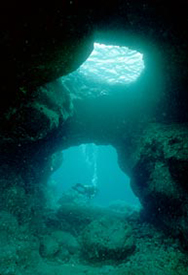 Sea Caves at Kaloko-Honokohau
Kaloko-Honokohau National Historical Park was established by Congress in 1978 to preserve, interpret, and perpetuate traditional native Hawaiian culture and to demonstrate historic land use patterns. Located a few miles south of the airport, the shoreline of this park is, for the most part, steep and rocky but if you access the area by boat it offers excellent diving. The water is clear, this is rocky bottom interspersed with coral, and there are sea caves near shore. About a hundred yards out the gradually sloping bottom drops sharply to a flat sandy expanse at about a hundred feet deep.
It's hard to have a bad dive here as long as the sea conditions are acceptable. Check with local dive shops or the park on conditions—they are not always predictable. We have noted many reef fish and frequent appearances by large pelagic critters including manta rays and sharks. The sunlight filtering through the sea-sculptured lava forms near shore create excellent photographic opportunities.
It is a common destination for local dive charter boats. Please note there is no recreational diving allowed in the fish ponds. Not a loss due to the stinging bristle worms that live there.
BASICS
Location: Kona Coast, Big Island
Skill level: Intermediate-advanced
Access: Boat and shore Dive support: Kona
Best time of year: Year round, but winter can be rough
Visibility: Good to excellent (30-80 feet)
Highlights: Marine life, sea caves
Concerns: Surge close to shore l
Rules and Regulations
Dive Site Map
Diver-down flag must be displayed while divers are in the water.
Regulations at Kaloko-Honoko-hau and at Pu'uhonua o Honau-nau are the same as those for the state of Hawaii. Ask the park ranger for these.
Last Updated: October 26, 2012