Diving in Grand Teton National Park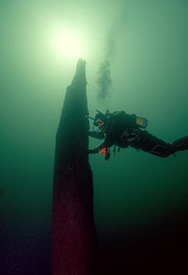 Underwater Forest at Jenny Lake
The Tetons comprise one of the most dramatic mountain ranges in the nation. A dozen peaks in the range rise above 12,000 feet, with the park's namesake, Grand Teton, topping the rest at 13,770. These peaks are visibly, superbly high as they tower over Jackson Hole, the valley 6,000 feet beneath them. The beauty of this park-an island of mountains that rises up dramatically on the horizon-is not subtle: it's aggressive.
The lake-studded valley that sets off the mountains also slows down the Snake River and makes it meander, creating a wetland habitat for migrating ducks, geese, swans, and cranes; a home for beavers; and a watering place for moose, elk, and deer.
The principal watering place for people is Jackson, a resort town with ski chalets, hotels, motels, restaurants, and shops. It is advisable to call ahead for reservations if you plan a summer stay in Jackson.
BASICS
Location: Northern Wyoming
Elevation: 6,800 feet: Jenny Lake
Skill level: Intermediate-advanced
Access: Shore or boat (boat recommended)
Dive support: Jackson, WY
Best time of year: July-September
Visibility: 60 feet +
Highlights: Rock formations, underwater trees, clear water
Concerns: Altitude, frigid water
Rules and Regulations
Dive Site Map
Dive Overview
You have two basic diving choices in Grand Teton National Park, Jackson or Jenny lakes. In neither case will you have to be pushing aside other divers. In the case of Jenny Lake, count yourself lucky to be in on the secret. Water in both of the large lakes in the park is chilly all the time. There is a dive shop in Jackson for air fills and there are boats for rent at Jenny (10 HP limit) and Jackson lakes.
As crystal-clear and pure as the water seems, remember giardia, a waterborne parasite that causes intestinal problems, is prevalent and on the rise in the area. Fight the urge to remove your regulator and drink from the lake.
Jackson Lake is a natural lake (with added reservoir capacity) and the larger of the two lakes within the park boundaries. It is certainly diveable, and some folks do dive there, but we can't think of any compelling reason to recommend it short of completing a life list of National Park dives. Jenny Lake is another story.
Dive Sites
JENNY LAKE
Jenny, a natural lake, challenges anything available to divers in Yellowstone. In the 1980s the lake was popular with divers but by 1995 few were coming here. We don't know why this should be the case, particularly since Jenny is such a pretty dive. Besides easy accessibility, clear water, and rock formations, divers can swim amidst a stand of submerged trees, some of which give the appearance of being rooted. "Appearance of" being rooted is used advisedly. This appearance caused a bit of turmoil in 1984 when the presence of these trees became widely known. The local populace was concerned that the trees might indicate recent tectonic activity. A standing forest a hundred feet underwater is unlikely to have grown there on its own. It's much more likely that the trees are dramatic evidence of subsidence, or geological instability that allowed the forest to be submerged. Should this scenario be accurate, the dam at Jackson Lake may not have been built in the happiest of locations.
One of the authors (DL) was part of a National Park Service team that worked with the Bureau of Reclamation to determine why there were rooted trees in the lake. After several days of inspection, we were pleased to be able to report that the trees were not, in our opinion, rooted at all but the chance result of a strange natural process. Landslides evident in the surrounding hillsides had merely deposited their arboreal load in the lake. Root balls weighted down with rocks were carried to the 100-foot-deep bottom by gravity as if they had been shot from a bow. They stuck upright in the bottom sediment, collecting silt over the years and taking on the appearance of rooted trees. Now they simply make a neat place to dive.
Diver-down flag must be displayed while divers are in the water.
National and historic objects protected.
There are no diving prohibitions, but it would be wise to check in with rangers.
Floating the Snake River within the park is allowed only in hand-propelled boats and rafts, not inner tubes.
No pets are allowed on boats in any water bodies in the park except Jackson. Boat permits are required.
Wyoming Fish and Game regulations apply.
Last Updated: September 4, 2013