Diving in Gateway National Recreation Area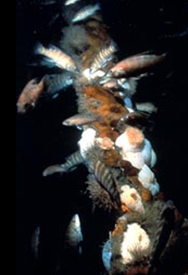 Sea life congregating around a line
Diving? In New York City? Anyone taking a rush-hour stroll through Kennedy Airport is likely to be seduced at least briefly by the posters extolling the virtues of diving in exotic places, some only a super-saver fare away. You might assume that anyone in the crowd carrying dive gear is going to or returning from a diving destination, rather than arriving at one, but a fair number of wreck divers see New Jersey and New York waters as a sort of mecca.
In fact, this area has enough ship wrecks per acre of bottomlands to rival any other place in the U.S. including such well-known wreck diving areas as Cape Cod and Cape Hatteras. Divers often refer to the stretch of water from Long Island south to New Jersey as "Wreck Valley." One charter boat captain claims he has 872 wrecks logged in his GPS data base and is quick to add that "this isn't anywhere near all of the sites out there." Included in this unlikely scuba destination are several National Park areas: parts of Gateway National Recreation Area (including Sandy Hook Unit in New Jersey), parts of the Statue of Liberty-Ellis Island complex, and, farther out on Long Island, the Fire Island National Seashore.
Most of the National Parks in the New York-New Jersey area have only a fringing boundary of submerged lands less than a half-mile wide. Far off shore are some major league dive sites, such as the USS San Diego, Oregon, Black Warrior, Mohawk, and Andrea Doria. These are well outside park boundaries. Serious wreck divers are encouraged to use one of the many books about diving the wrecks that are available at local dive shops. Just be aware that most of the sites in the National Parks we will be discussing here are mere appetizers for the main courses farther out. The best way to dive the sites we list as well as those farther out is to go with one of the 40 or more dive charter boats based in New York and New Jersey. In addition to the offshore dives, there are a few shore dives that can be made without relying on boats.
Most of the dive shops and charter boats cater to the artifact hunters in the local wreck-diving community. In fact artifact hunting is probably the most popular type of diving next to game taking in this area. Divers often measure their worth by the number of relics they've have pulled from the water.
Peruse any of the wreck-diving guides for the region and note the number of photos of proud divers with their dripping booty. At peril of sounding preachy, we might point out that all this immediate gratification will extract its price from a future generation of divers that will have to be satisfied with seeing stripped wrecks: propeller shafts without blades, ship's bell brackets without bells, gouged-out holes that once held portholes; hulks stripped of their identity. Recovered artifacts follow the well-beaten path from a place of honor on the mantel to the back of the garage, to the dumpster. Area dive books show a certain ethical ambivalence in this regard. Some profess concern about the looted sites yet display glossy prints of hero after hero with relic in hand.

BASICS
Location: New York, New Jersey
harbors
Skill level: Intermediate-advanced Access: Limited diving by shore, unlimited by boat
Dive support: Sandy Hook, Red Bank
Best time of year: Summer
Visibility: Poor to moderate (10 to 30 feet)
Highlights: Shipwrecks
Concerns: Shore breakers, ocean currents, pollution
Rules and Regulations
Dive Site Map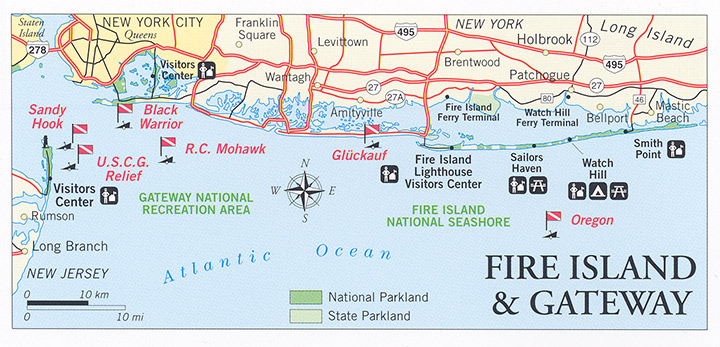 Dive Overview
Gateway is 26,000 acres of primarily urban park complete with crowds, picnic tables, and a mix of marshes and sandy beach. In all honesty, we can't recommend diving off of the New York portions of Gateway NRA, but it is an excellent place to base yourself for diving areas further offshore via one of the many dive charter boats available. Excellent, that is, in terms of convenience, not in comfort or charm. In Brooklyn, for example, off Shore Parkway East, there are cozy little lodgings within walking distance of Pier 5, from which a couple of the charter boats depart. In one, the desk clerk is ensconced behind three-inch-thick bullet-proof glass. It is comforting to know that if you should suddenly go into a murderous frenzy and try to shoot him, he'll be okay. During evening hours, the front entrance of the hotel is frequented by numerous "ladies of the evening." Since they rent the rooms at this hotel by the hour, when you say you I will be staying three days, the clerk will infer that you are either a stud, a workaholic, or a diver.
A brief study of the area history will help you understand why so many wrecks ended up in these waters. The New York bight has been a crossroads of international shipping for more than 300 years. Take a side trip to the Statue of Liberty and Ellis Island and watch the tremendous volume of ship traffic moving into and out of New York Harbor. It's been like that for a long time but with a couple of major differences. Up until the late 1930s these ships did not have radar, and until very recently they did not have the extreme accuracy of Loran and GPS for navigation. Given the weather conditions that prevail in this area, including fog and brutal winter gales, and given also the sheer numbers of ships plying these waters, there were bound to be accidents. There were-lots of them.
Dive Sites
BLACK WARRIOR
This wreck is bypassed by most of the dive charter vessels for the more intact wrecks farther off shore. It is of some interest to the maritime history buff. The vessel is a side-paddle-wheel passenger and mail liner that ran aground in fog just outside Rockaway Inlet on February 20, 1859. After its cargo and passengers were off-loaded and the Black Warrior was freed from the sand bar, it grounded again only a short distance away. Several days later, it was battered to pieces by a winter storm. Today the wreck is broken up with one boiler sticking prominently above the sand and silt bottom, There are also the remains of one large paddle wheel, This dive is in 35 feet or less of water and is best dived when conditions are calm.
R. C. MOHAWK
The R. C. Mohawk is a 205-foot Coast Guard revenue cutter that sank about 10 miles off shore, south of East Rockaway Inlet. On October 1, 1917, the ship collided with the SS Vennacher, a British tanker and part of the convoy the Mohawk was escorting. Because the weather was clear and the conditions favorable, a cadet from the Coast Guard Academy had been allowed to stand watch. Twenty minutes after he took over the watch, the two ships collided; an hour later the Mohawk was on her way to the bottom in 100 feet of water. So much for on-the-job training. Fortunately, other vessels came to her aid, and all hands were rescued.
This site, like the Black Warrior, we recommend only to the compulsive wreck diver. The area where the ship sank was for more than 50 years the dumping ground for New York City's municipal sewage sludge. The dumping stopped in 1986 when the site was moved farther off shore. Apparently the sludge that covered this wreck was toxic stuff, as the immediate environs took on the character and rubric of the "Dead Sea." The wreck has mostly collapsed with sections of the bow and the stern still recognizable. The visibility can range from 10 to 30 feet on site The local dive guides consider this an advanced dive, probably because the depth and the jumble of potential entanglements on the bottom.
SANDY HOOK UNIT
The Sandy Hook Unit of Gateway National Recreation Area in New Jersey has an entirely different character from its congested metropolitan sister unit across the bay. Sandy Hook is essentially a 1,600-acre spit that forms the southern "gate" to New York Harbor. Though accessible by boat and road, this area-a former military base, now a Coast Guard station-is free of much of the commercial sprawl that typifies most New York City beaches. Due to the current and past military presence, some of the things you might find underwater are also of a military nature. On the Atlantic side, it can be ordnance of the explosive kind. Don't fool with such material.
SANDY HOOK
The Sandy Hook is a 168-foot pilot boat that sank in April 1939, in a dense fog, when she was struck by the Norwegian passenger liner that she was going out to meet. There was no serious damage to the liner but the hull of the pilot boat was breached, and it sank in about 95 feet of water off what is now the Sandy Hook Unit of Gateway NRA just east of Ambrose Light. Portions of the wreck are still intact and make a good dive.
USCG RELIEF
The Relief is a 129-foot Coast Guard lightship that sank in June 1960. It was on a temporary duty station replacing the lightship Ambrose when the freighter Green Bay rammed it in a dense fog. The Relief is intact and sits upright on the bottom in 110 feet of water. The fixed structure of Ambrose Light has been in place since 1967, marking the entrance to New York Harbor. The Relief is only about a mile from the light tower and is also directly off the Sandy Hook portion of Gateway NRA.
Diver-down flag must be displayed while divers are in the water.
No artifacts may be removed from any shipwreck or historic site that is in National Park waters.
When taking game, the state game laws apply for whatever state you are diving.
Last Updated: October 26, 2012