Diving in Curecanti National Recreation Area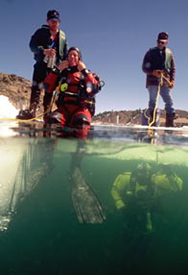 Gearing up for an ice dive
The fact that scuba diving is mentioned three times in the park brochure is an indication that it is an established visitor activity. It is unusual for such a remote national recreation area to have such a seemingly esoteric use. The park itself is beautiful in most seasons, the water reasonably clear, and the area uncrowded. This is, however, a typical reservoir dive with a muddy bottom, crayfish, and not much else to see.

Three man-made lakes, all part of the Upper Colorado River Storage Project, compose Curecanti National Recreation Area. All lakes are impoundments of the Gunnison River, tributary of the Colorado. To see how the Gunnison looked in its natural state before being turned into reservoirs, be sure to visit Black Canyon of the Gunnison National Monument just downstream. Capt. Gunnison of the Corps of Topographical Engineers involuntarily lent his name to the canyon when he was killed in Utah by hostile Indians in 1853, after he esteemed the country "the roughest, most hilly and most cut up" he had ever seen. Though the party never ventured downstream, their report contains the first official description of the formidable Black Canyon.
Most water activities, including diving, are at Blue Mesa Resevoir. When full, this is the largest lake in Colorado with a surface area of 14 square miles. During drawdown time, land vehicles are allowed below the high water line. During the winter, this same zone is open to snowmobile traffic, making this a convenient and excellent place for those drawn to ice-diving adventures.
BASICS
Location: Colorado
Skill level: Beginner-advanced
Access: Limited diving by shore, unlimited by boat
Dive support: Montrose
Best time of year: May-September; ice diving: January-February
Visibility: At Dillon Pinnacles (in Blue Mesa Reservoir), visibility ranges from 10 to 25 feet; best visibility is in winter.
Highlights: Submerged road and bridges, good dropoffs, some fish, ice-diving
Concerns: Altitude over 7,000 feet; cold water, frozen in winter
Rules and Regulations
Dive Overview
The park requests that you check in with a ranger if you will be diving. Park regulations specifically require boats using the lake to abide by the divers-down flag. There are limited shore-based diving and unlimited boat diving opportunities in the lake. The nearest source of air for tank fills is Montrose.
The visibility gets downright good in the winter and this park is a good place for ice diving-usually done in the Elk Creek area. As a matter of fact, our only experience diving this lake is the ice training dives we have made as park rangers. This is a first-rate spot for that specialized sport, but obviously you shouldn't even think about it unless you are specially trained and equipped.
Ice diving may be attractive here, but please remember that this is not a basic diver activity but one requiring specialized training and equipment.

Mind your altitude conversions. Yow are diving at well over 7,000 feet which puts you on the 8,000-foot tables. That's serious elevation-you almost have to decompress from taking a bath.
ICE DIVING

Ice seen from underwater is incredibly beautiful because of the fractured light that filters through it. The fish and critters that one sees are usually somewhat sluggish due to the chill, which makes it easy to approach them. But ice diving is especially hazardous and requires special training and equipment.
Due to extreme cold, divers need to ensure that they have adequate thermal protection and must carefully monitor the span of time they are underwater. Because divers usually enter and exit the water through a single hole cut into the ice, they need training in diving in overhead environments. It is necessary to have redundant life-support equipment, special rules for air management, and a safety tether. The latter is important because divers often become disoriented, lose the way back to the entrance hole, and then run out of air. Ice diving is popular in Curecanti, as well as in many of the northern National Parks, including Yellowstone, and the Great Lake parks.
Dive Sites
DILLON PINNACLES
The best shore diving according to the locals is in Blue Mesa Reservoir off the Dillon Pinnacles parking area. Old Highway 50, inundated after construction of the dam, heads on into the reservoir, making a natural ramp. You can swim along the old highway meditating on roads less traveled or head for the Middle Bridge, which crosses the reservoir. Some drowned bridges are also in the reservoir, but they are too deep for sport diving. If you swim underwater straight south you will come to a steep drop-off from approximately 100 feet deep depending on current reservoir level. Visibility ranges from 10 to 25 feet and during the summer the water stays a fairly constant 47°F at depth. There are crawdads, suckers, and a few trout to look at in addition to the geology.
ELK CREEK MARINA
You will need a boat for this dive. If you head southeast from the marina, you will see a vertical wall extending out of the water on the south side of the reservoir. The underwater portion of this wall provides all the same attractions as the Caribbean except warmth, visibility, and something to see. This is a better place to find a steep drop-off than the Dillon Pinnacles as it begins at the surface rather than a hundred feet down.
Diver-down flag must be displayed while divers are in the water.
The park advises checking in with a ranger if you plan to dive.
Colorado Fish & Game regulations apply.
State fishing license required for ages 15 and above.
Check park information centers for current regulations.
Last Updated: May 14, 2013