Diving at Cape Lookout National Seashore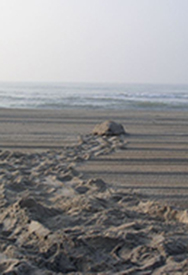 Nesting female turtle heads to sea
The barrier island of the Cape Lookout National Seashore is an extension of Cape Hatteras, though it is much less developed and is accessible only by ferry. Authorized almost thirty years after it's sister park, Cape Lookout is nonetheless considerably more pristine. The cape encompasses 55 miles of barrier islands, mostly broad, sandy beaches stretching from Ocracoke Inlet southwest to Beaufort Inlet, interrupted by flat grasslands and salt marshes.
Much of the northern portion of seashore is awash at high tide, and you really need to have your act together to hike and camp this area. But the Cape's real wilderness feel make the camping here well worth the effort, as long as you keep informed by locals and rangers.
The southern part of the park twists dramatically back upon itself: you can tell from the map that there is a lot of current dynamics at play here. You'll also be surprised by groves of trees in the darnedest places. There's an evergreen hummock in the north and an extensive maritime forest at Shackleford Banks in the south. The ocean side boasts "ghost forests"-stands of trees which, after succumbing to encroaching wind and surf, leave their sun-bleached bones protruding from the sand. Flocks of birds stop on these islands during the fall and spring migrations, making this an excellent birding park. Diamondback terrapins and box turtles come ashore at Core Banks, and logger-head turtles crawl up these beaches at nesting time. Unlike Cape Hatteras, Cape Lookout has some water on the sound side under NPS jurisdiction-the park boundary extends out 150 feet at mean low tide-although the bottom lands are owned by the state.
BASICS
Location: North Carolina barrier islands
Skill level: Intermediate-advanced Access: Limited diving by shore, unlimited by boat
Dive support: Morehead City and Beaufort, NC
Best time of year: Spring, summer
Visibility: Highly variable
Highlights: Some wrecks, fish, turtles
Concerns: Low visibility, current, minimal accessibility without a boat except for a small area on the south end.
Dive Site Map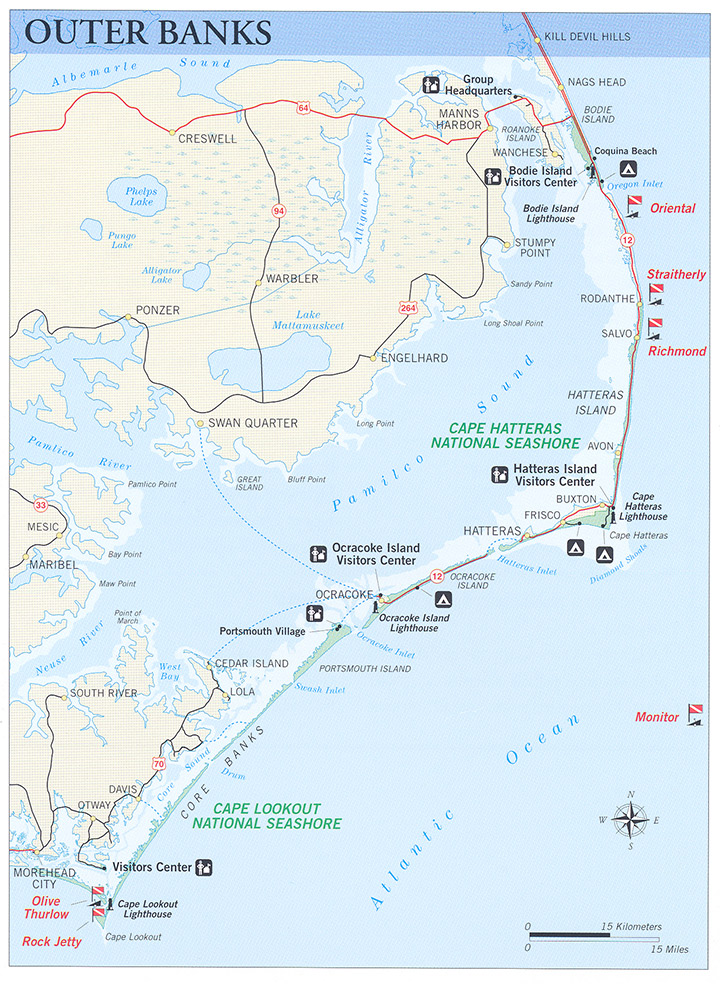 Dive Overview
Although the Outer Banks parks have an extensive maritime history and are becoming a mecca for shipwreck divers, it should be noted that few submerged sites are actually under National Park Service jurisdiction, which usually ends in ankle deep water. Even access to the sites through the parks is limited, most of it occurring from private dock areas interspersed throughout the Outer Banks. Exceptions are herein listed but none are great dives worthy of "destination" status. The sites, several miles offshore, however, are most definitely worthy of a visit solely for diving purposes. For information on trips to these sites, it is best to query dive shops along the banks, particularly at Hatteras, Nags Head, and Morehead City. These are open only in the summer, but if you leave a message in the off-season, your call will be returned.
Dive Sites
ROCK JETTY
The rock jetty indicated on the park brochure on Power Squadron Spit is probably the most popular site in the park for scuba diving. Divers come here by boat from Morehead City and Beaufort for spearfishing and occasionally use the area inside the bight for instruction.
OLIVE THURLOW
Located in about 15-20 feet of water in the Cape Lookout bight, this was a barkantine that wrecked in a 1902 storm at the cape. The State of North Carolina in cooperation with private divers and the Park Service for eventual display at the Cape Lookout Lighthouse have recovered a large anchor from the site. The wreck is buoyed, and its location is well known to locals and park rangers.
Diver-down flag must be displayed while divers are in the water.
The NPS has no special rules or regulations pertaining to diving at Cape Hatteras or Cape Lookout.
Familiarize yourself with North Carolina state laws regarding taking of game by calling the North Carolina Wildlife Resources Commission 919-482-2915 or asking at local tackle and dive shops.
All antiquities are protected in National Parks, including the shipwrecks in the dunes. North Carolina also has protective legislation covering historic shipwrecks offshore.
Metal detectors are not allowed on any park land.
Last Updated: November 1, 2012