Diving in Acadia National Park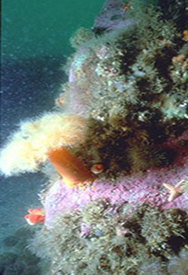 Frilled anemone shares space with sea peaches and sea urchins
Acadia National Park has been under construction and renovation for a long time-about 500 million years. Geological forces have shoved bedrock up out of the sea to form a coastal mountain range that in turn was buffeted by the forces of the sea, wind, and weather, in the process creating such a magnificent display of primordial beauty that people have long sought peace and solace here. Most of the park is located just outside of town and includes about 60 percent of Mount Desert Island, half of Isle Au Haut, some unattached smaller islands, and all but a small section of the tip of the Schoodic Peninsula. The fog-shrouded bays and miles of coastline here offer challenging and exciting diving for those hardy souls willing to brave the bone-penetrating chill of Maine waters. There is one dive shop in Bass Harbor, Harbor divers, which is close to the park.
BASICS
Location: Atlantic Coast, Maine; shore and boat diving
Skill level: Intermediate-advanced
Access: Limited diving by shore, unlimited by boat
Dive support: Bass Harbor and Southwest Harbor
Best time of year: Mid-July
Visibility: Poor to moderate (10-30 feet)
Highlights: Marine life
Concerns: Tidal currents, frigid water, suspicious lobstermen; tricky entry from shorel
Rules and Regulations
Dive Site Map and Overview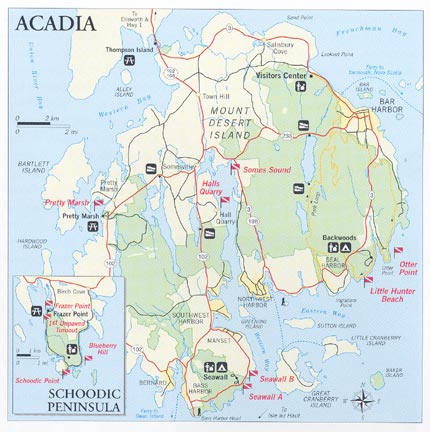 Extreme tides, turbulent seas, and cold water make diving Acadia a challenge. Bass Harbor has the only dive shop in striking distance of the park. If you want to leave Mount Desert Island and explore the untouched areas of the Schoodic Peninsula, you will need several tanks or a portable compressor. If you can overcome these problems, good shore and boat diving will reward you. As you might imagine, however, any place that has 20-foot tides will also have some vigorous currents during tidal changes. Remain vigilant, especially when diving from shore or off an anchored boat. And yes, as we have mentioned, the water is cold, very cold. Depending on the season and the depth, it can be anywhere from 37 to 50 degrees F on the surface. A further caution: Maine lobstermen are extremely suspicious of scuba divers. They don't know what you are doing down there, but they figure it has to involve lobsters, so give lobster traps a wide berth. It is, by the way, against the law to take lobsters on scuba in Maine.
Visibility varies greatly with seasons, tides, and locations. It is generally clearer from spring to early summer and in the fall. Algae blooms tend to cloud the water in late summer. There are many places to dive from shore and some that are suitable for snorkeling. The caveat is that in most places it must be calm or you risk being dashed on the jagged granite shoreline like a piece of flotsam. The greatest obstacle to shore diving is suitable access to the water. Most of the shore dives are best accomplished at or near the day's high tide. This will allow you to enter and exit the water without trying to cross areas covered with rockweed. This stuff is very slippery, making walking hazardous and walking with scuba gear positively treacherous. When diving from shore anywhere other than beaches, always keep in mind that an easy entry at high water can lead to an exit over a 10- to 15-foot wall when the tide has dropped.
Boat diving sites are almost infinite, restricted only by the amount of current at the time of the dive. You can look at a chart, pick any place showing a dropoff in depth, and find granite walls covered with marine life. You can find spots like this all along the coast and around any of the numerous offshore islands.
If you are not familiar with the area, and you don't have a boat available to you, a good alternative is to rent or take a charter. Besides offering a way to visit the best offshore dive areas, they also offer a dive near the harbor seal rookery on Little Duck Island. If you are lucky, some agile seals will entertain you throughout your dive.
Dive Sites
OTTER POINT
This can be a very high-energy area and should be dived only on a calm day. Driving around the park loop road past Thunder Hole, you will come to a wayside area called Otter Point (you can't miss it: there's only one wayside area nearby) with parking areas on both sides of the road. Park here and follow the short trail down to the water. Once the tide is high enough to cover the rockweed, you can find a place to enter and then swim back around the point in the direction from which you drove on the one-way park loop road. You will find large boulders with sharply cut granite rock faces much like you see on the shore. The difference is that these will be covered in marine life-mussels, barnacles, anemones, sea urchins, and little peach-colored truncates called sea peaches. Lobsters and sculpin can be found in the cracks and crevices. Water depth drops off fairly rapidly as you swim out from shore, but you can make a nice dive in the 20-to-30-foot range. Be aware of any increase in the surge while you dive, as the exit is harder to accomplish than the entry. Because of the tricky entrance and exit, this dive is recommended for advanced divers only.
The reef here has deep surge channels in a regular pattern called a "spur-and- groove" formation. The reef is covered with large, wildly shaped basket sponges, some of them big enough to hide a diver. The shapes of the sponges comprise a living Rorschach test. You will see characters, body parts, gnomes, and anything else you might care to share with your psychiatrist. The swift currents of the Gulf Stream usually keep the water out here especially clear, and large eagle rays, sharks, and other pelagics cruise the reef. The depth of a dive can range from 55-95 feet before you run out of sloping reef and hit sand bottom.
LITTLE HUNTERS BEACH
Down the park loop road past Otter Cove (which looks inviting, but it is very shallow with little to see), is another small cove with a cobble beach. This is Little Hunters Beach, as indicated by a small sign. Park along the road on the right side, cross the road, and take the trail down to the beach. You can enter at any tide, but, once again, high tide is easier because of the slippery moss coating on the rocks. In calm conditions, this dive is suitable for all levels. Once in the water, swim out toward the mouth of the cove; turn either right or left, and work along the shore. Out to about 50 yards from shore, you can expect 30-35 feet of water. The bottom is covered with large boulders that come to within 10 feet of the surface. To the right are some small hollowed out areas of the rock walls that attract marine life. This is a good dive for seeing marine life when calm. With a high surge, it looks better from a folding chair on the shore.
The sandy area inside the reef is 35-40 feet deep. As you swim towards the ocean, it gets shallower, with depths of 20-25 feet. On the north side of the inner area, there is a small wall that drops from 20 feet down to 38 feet. It is undercut with small coral caves and frequented by large schools of small bait-fish. The area under the ledges has schools of copper sweepers and several large moray eels; on top of the ledges, brilliant red sponges grow. Thanks to the good light penetration, the colorful ledges and schools of fish make this area a feast for the underwater photographer.
This is probably one of the best shallow reef dives in the park. Snorkelers will have plenty to see from the surface although most of the action is just a bit farther below and the area is a bit on the deep side. If you try a night dive along the drop-off; you'll have the sensation of being in an underwater theater.
SOMES SOUND
Somes Sound is considered by many geologists to be a true fjord, making it the only one on the east coast of the United States. This very protected bay extends into the center of Mount Desert Island. Because of its calm water and reliably deep entrance, ship captains have come here for shelter since ships began visiting this area. The fjord also made the pink granite quarry here accessible. Local fishermen and divers, when questioned about the possibility of finding old sailing ships on the bottom of Somes Sound, are more than willing to speculate. One diver even told of a large intact schooner on the bottom in about 80 feet of water. When questioned closely about what he saw and where exactly he saw it, he told us, "The visibility was very bad, and besides it was a long time ago." Let us know if you find it. You can make a shore dive off a picnic area on the up-sound end of Sargent Drive. This unmarked public picnic area is .8 miles down Sargent Drive from its intersection with US Route 3. The area is not in the park but it is surrounded by park land. Access from the shore is easy, and the conditions are suitable for beginning divers. A big loop out from the shore reveals a very muddy bottom about 20 feet deep, studded with a few old tires, shoes, and fishing lures. But swim around into the small bay to the small bay to the north, where the bottom is rocky and covered with dense rockweed. This bay is a decent snorkeling spot at high tide, with a fair amount to see in only 5 to 10 feet of water. For the diver it's an excellent place for training but your time will be better spent in other places at Acadia.
SEAWALL
This site in the Bass Harbor section of the park has a park picnic area and a campground. To get here, follow US Route 102A south and east from Bass Harbor or east from the junction with Route 102. Take Route 102A to a parking area marked Seawall. This is a good spot for both scuba diving and snorkeling. The best snorkeling is immediately out from the picnic area parking. You will find a rocky bottom with patches of dense rockweed, the occasional lobster, and a host of snails, crabs, and starfish.
The best scuba diving is up the road toward Manset, just before you cross a sort of natural dike, which is, in fact, the seawall for which this area is named. Park along the road and make your entrance off the cobble beach. Swimming out you will find a rocky bottom with deep crevices inhabited by lobsters, flounder, crabs, numerous starfish, and a few anemones. The depth is in the 25- to 35- foot range. All in all a nice dive. Under the right conditions-calm weather, no algae blooms-this would be a good place for a night dive. Access to and from shore is easy and the area is protected. You can check out the spot during the day by snorkel.
PRETTY MARSH
This site is located off the park picnic area at Pretty Marsh. The well-marked entrance road is off Route 102 on the western side of Mount Desert Island just north of Seal Cove Pond. The entry is easy and the diving is in 20 to 35 feet of water. As you swim out from shore toward Bartlett Island, be mindful of the tidal currents that sweep the area.
SCHOODIC PENINSULA
Only a handful of divers have thus far visited this remote area of the park. For those equipped with a compressor or a passel of tanks, there awaits an adventure accented with clear water, lots of marine life, and the excitement of discovery. But keep in mind the sea state and currents. Except for those few dives in protected water, the dive sites in this area are best suited for experienced divers.
To get to the Schoodic Peninsula, take US Route 1 north to State Road 186 past Winter Harbor and on toward Birch Harbor. The park entrance is clearly marked about two miles past Winter Harbor. Once you pass through the entrance, it is one-way traffic through the park just like Mount Desert with one major exception-no traffic. The scenery is just as spectacular but this is definitely 'the road less traveled."
All along the road you will find places to park and dive. In fact you will find shore access easier here than at the Mount Desert section of the park. You will also find the water clearer: often visibility of more than 30 feet. In some places, the color of the water is so blue it might remind you of the Caribbean- until it splashes on your face and forms icicles on your nose. Some local divers believe the water is colder here than it is anywhere else in the park.
On this side of the peninsula, deep water comes in close to shore, making it ideal for scuba. The depth drops quickly, to 100 feet in some places within a quarter mile of the shore. The bottom topography is typical of the Maine coast: large granite boulders and sharp, small, vertical walls. Marine life includes numerous sea stars and urchins, some truncates, several varieties of crabs, a few sculpin, flounder, and lobsters, and the occasional colorful nudibranch.
Just after you start the park loop road you will see a sign for Frazer Point picnic area on the right-hand side. Turn right and follow this road out to Frazer Point, which offers one of the best opportunities on the peninsula for beginning divers. The entry is sheltered from wind and waves, and depth is 25 to 35 feet. The first unpaved turnout you come to on this one-way road after leaving Frazer Point has very good access to the water at any tide. A little farther down the peninsula, you will come to a small cobble beach that also offers easy access. Once in the water, if you swim up the coast to the right there is good relief underwater. A kelp bed here provides a habitat for fish and invertebrates. Farther down the road is a cove with a pebble berm. This cove, during higher tides, offers a good place to snorkel. It has easy access from the berm, shallow and well-protected. Just past this cove a dirt road leads inland to the left. This road will take you to the highest point on the peninsula, Schoodic Head. This is a worthwhile side trip, especially if there is no fog to come between you and a great view. It is also where the trails in the area meet, making it a good place to hike between dives. Once back on the main road continue past the U.S. Navy installation out to Schoodic Point. There is some good diving to be done here-steep walls, good drop-offs, lots of marine life -but it can only be done on the calmest days, especially if you dive from shore. As is true throughout Acadia, you can avoid crossing rockweed-covered rock if you enter at high tide. Do not attempt a dive here if there is any surge.
As you head back up the other side of the peninsula, you will pass one more dive site, Blueberry Hill, with a parking lot and good shore access. Schoodic Island directly offshore gives it some protection from the open ocean. The cobble beach touches the water at high tide, offering a straightforward entry, but at low tide there is an area of slippery rock to negotiate before taking the plunge. The water depth reaches a maximum of 70 to 80 feet between the shore and Schoodic Island, a little more than half a mile away.
Diver-down flag must be displayed while divers are in the water. All the State of Maine Fish & Game regulations apply. Spearfishing is permitted in saltwater areas only. No lobster may be taken on scuba in Maine waters. There are some shoreside areas of the park such as Thunder Hole where diving access is not allowed. Divers should check with the visitor center for more current and specific information about areas where access for diving is prohibited. Eagle Lake, Jordan Pond, Bubble Pond, and upper and lower Hadlock Ponds are closed to swimming and diving by the state because they serve as a drinking water supply. Diving off swimming beaches at Sand Beach and Echo Lake is permitted from October 1 through May 1 only.
Last Updated: October 30, 2012