Wilderness Heritage: Working with Sled Dogs in Denali
WHO: Jen Rafaelli, Kennels Manager at Denali National Park and Preserve
WHAT: Continuing the longstanding tradition of using dogsled teams in the wilderness of Denali and Gates of the Arctic National Parks & Preserves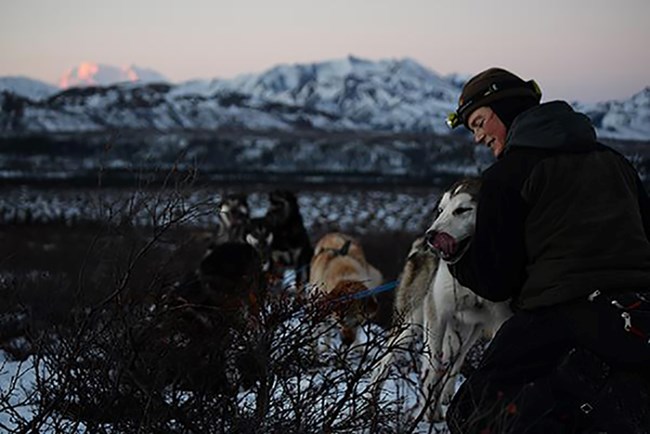 "By using these sled dogs instead of machines, we're replacing cold engines with warm beating hearts. We're trading a tangle of wires for a network of veins. Channeling blood enriched with passion, purity, and an electricity no battery will ever come close to harnessing. That's what powers this place."
In an effort to promote greater self-reliance and the use of traditional skills, the Wilderness Act limits the use of motor vehicles and mechanized equipment in wilderness areas.
In Denali National Park and Preserve, park staff honor and celebrate wilderness-friendly activities by using dog teams for work in the
Denali Wilderness
. Sled dogs and winter travel by dog team feature prominently in the history and tradition of Denali - and today, they are also an important part of park operaions. Denali is the nation's only national park with a
working sled dog kennel
, and Jen Rafaelli is the kennels manager.
Jen grew up training horses and wanted to be a veterinarian. She met her first sled dogs while guiding for an ecotourism company in Alaska in 1998, and fell in love. She ran dogs for mushing trips and different distance racing kennels before becoming kennels manager at Denali in 2010. We asked Jen a few questions about her work:
What's your favorite thing about this work?
My favorite thing about this job is the dogs. They are simply amazing, so full of enthusiasm and passion, and they are the best wilderness travel companions you could ask for. I am consistently filled with gratitude and amazement each and every time I drive a dog team past a view of Denali and think about how lucky I am that this is my life and my job, and that these dogs are my co-workers and teammates on the trail.
What's something that you think would suprise people about this work?
I think most visitors are surprised to see that a woman does this job and goes out on the trail for weeks at a time in winter. I think people are also surprised by the range of skills required by this job, from making breeding selections to partnering with other NPS work groups to find projects for the dogs.
Want to learn more about sled dog work in the wilderness?
Debris removal in the Gates of the Arctic Wilderness
Debris removal in the Denali Wilderness
Last updated: September 5, 2023