Paddling in the Buffalo National River Wilderness
WHO: Recreational Paddlers
WHAT: Appreciating the risk and challenge associated with paddling in the wild waters of the Buffalo National River Wilderness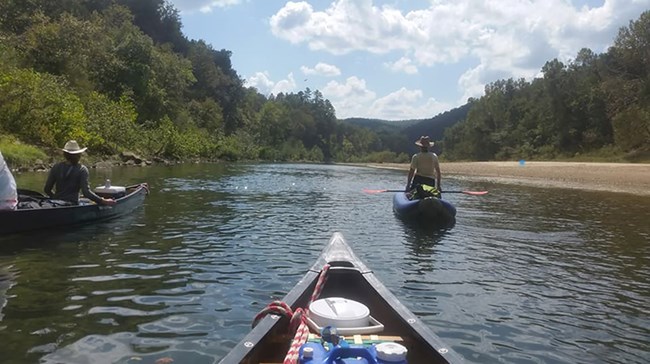 "Upon entering the Lower Buffalo Wilderness, there's no turning back. You're committed to paddling 24 river miles with no earlier option for escape. While this may seem daunting, the risk is invigorating. The sense of discovery is empowering. The experience is wholly profound. Testing our limits in a landscape so remote can evoke a connection with our primal selves."
-- Lauren Ray, Interpretive Park Ranger + Recreational Paddler


Buffalo National River in the Ozarks of northern Arkansas has nearly 36,000 acres of designated wilderness within its boundaries. Three wilderness areas — the Upper Buffalo Wilderness, Ponca Wilderness, and Lower Buffalo Wilderness —make up more than one-third of the land area of this park unit, and each wilderness has its own unique story. Perhaps the greatest opportunity for solitude and discovery at Buffalo National River lies in the Lower Buffalo Wilderness, a 24-mile section of river surrounded by nearly 22,000 acres of rugged, forested slopes and towering sandstone bluffs. At the downstream terminus of the Lower Buffalo Wilderness isthe Buffalo River's confluence with the White River, a grand juxtaposition between the wild and the tame.

In the early 19th century, European explorer Henry Schoolcraft made an expedition up the White River to write an eyewitness description of its tributaries and terrain. Of the "Buffaloe Fork" of the White River, Schoolcraft documented an abundance of wildlife that presented exceptional hunting opportunities. According to Buffalo River historian Kenneth L. Smith, Schoolcraft described large quantities of beaver, otter, raccoon, deer, and bear-skins being collected from the area and taken downriver by canoe to the White River and its multiple trading posts between the mouth and the Mississippi.

Today, paddlers can make the overnight voyage through the Lower Buffalo Wilderness by canoe and experience the "Buffaloe Fork" just as it was described by Henry Schoolcraft in the early 1800's. Bald eagles soar overhead. River otters swim and swirl in the shallows. A family of white-tail deer hesitantly crosses the river just yards in front of you before clambering up the rocky slope on the opposite bank. You can spend three full days and nights here without seeing another human, yet you will undoubtedly be mesmerized by your company.

Start planning your trip to the Lower Buffalo Wilderness now!
Last updated: December 28, 2017