Bring This, Not That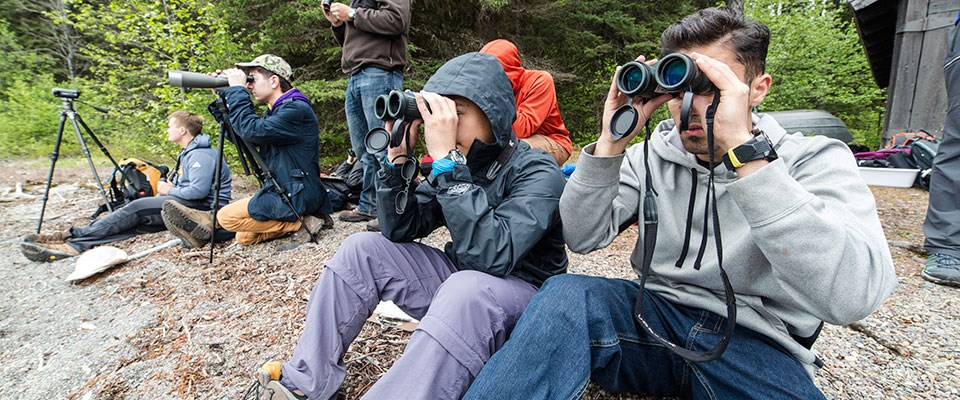 Learn what to bring to enhance your experience and what items you should leave at home. Seeing wildlife in their natural habitat is a privilege, and we need to respect them and the habitats in which they live. The best viewing experiences happen when the animals act naturally, without being distracted by a human presence or interference. They'll behave most naturally when they don't know you're watching.
The safety of these animals, as well as human safety, depends on everyone using good judgment.
Bring this:
Binoculars/Spotting Scope – A watching wildlife necessity! Get up close and personal without moving an inch. The wildlife act naturally while you sit comfortably a safe distance away, taking in the scene. Make sure to keep your distance from wild animals. If an animal approaches you, back away.
Camera with zoom – Take a picture, it'll last longer! Preserve those wild moments by snapping a photo that will last a lifetime. Just remember, don't get too close! Pack a zoom to get a closer look. Oh! And don't forget extra batteries for your camera. Check out this handy beginner's photography guide for tips on capturing the perfect shot.
ID Books – Use field guides to help you identify what you're seeing. They can be found online, in your smartphone app store, in most bookstores, or even in park visitor centers.
Journal/Field Book – Take notes about what you saw or draw pictures. These keepsakes will be a good reference if you're ever out observing in the same place again.
iNaturalist app – The National Park Service is proud to team up with iNaturalist, the mobile app that allows you to make observations from your smartphone. It's fun to be a citizen scientist!
Sun Protection – Chances are you will be sitting outside (patiently waiting for your sighting) for a while. You may need to wait several minutes, sometimes hours, to see some wild species. Protect yourself from the sun by wearing long-sleeved shirts, sunscreen, hats, and sunglasses. If you choose to wear sunscreen, make sure it's mineral sunscreen

.

Water – Make sure you stay hydrated while enjoying the great outdoors.
Bear Spray – If you're heading to a park with bears, consider bringing bear spray. It's just like pepper spray or mace that humans use for self-defense but much stronger! You can use bear spray to stop an aggressive, charging, or attacking bear. Learn more about bear spray from Yellowstone National Park's "A Bear Doesn't Care" Campaign.
Leave at home:
Food for animals – Do not feed birds or any other wildlife in national parks. This is dangerous to you and the animal, and it's against the law. When wildlife eat human food, it can lead to serious consequences, like getting sick, catching diseases, or even having to be killed if they become too aggressive looking for more food. Wildlife looking for food can approach humans resulting in injury.
Animal/bird calls – Do not use bird calls, or apps that imitate animal sounds. Mimicking animal sounds is considered harassment, which is illegal. Using animal calls can also harm wildlife. For example, it can cause birds to leave their nests, leaving their young vulnerable to predation. Animals who feel threatened may try to protect themselves resulting in human injury.
Spotlights/laser pointers – Spotlights and laser pointers can be disruptive to animals and are prohibited items in some parks.
Pets – Pets are prohibited on most trails in national parks, so it's best to leave them behind during your visit. They may chase or threaten wildlife, scaring small animals away or becoming prey for larger predators. Wildlife may also chase or threaten your pet. Dogs may bark and cause unfamiliar sounds and smells that can disturb wildlife. Pets may also carry or catch diseases or parasites. Where pets are allowed, be a BARK ranger and Bag your pet's waste, Always leash your pet, Respect wildlife, and Know where you can go.
Last updated: November 9, 2022