Volcanic Parks in the NPS—A Quick History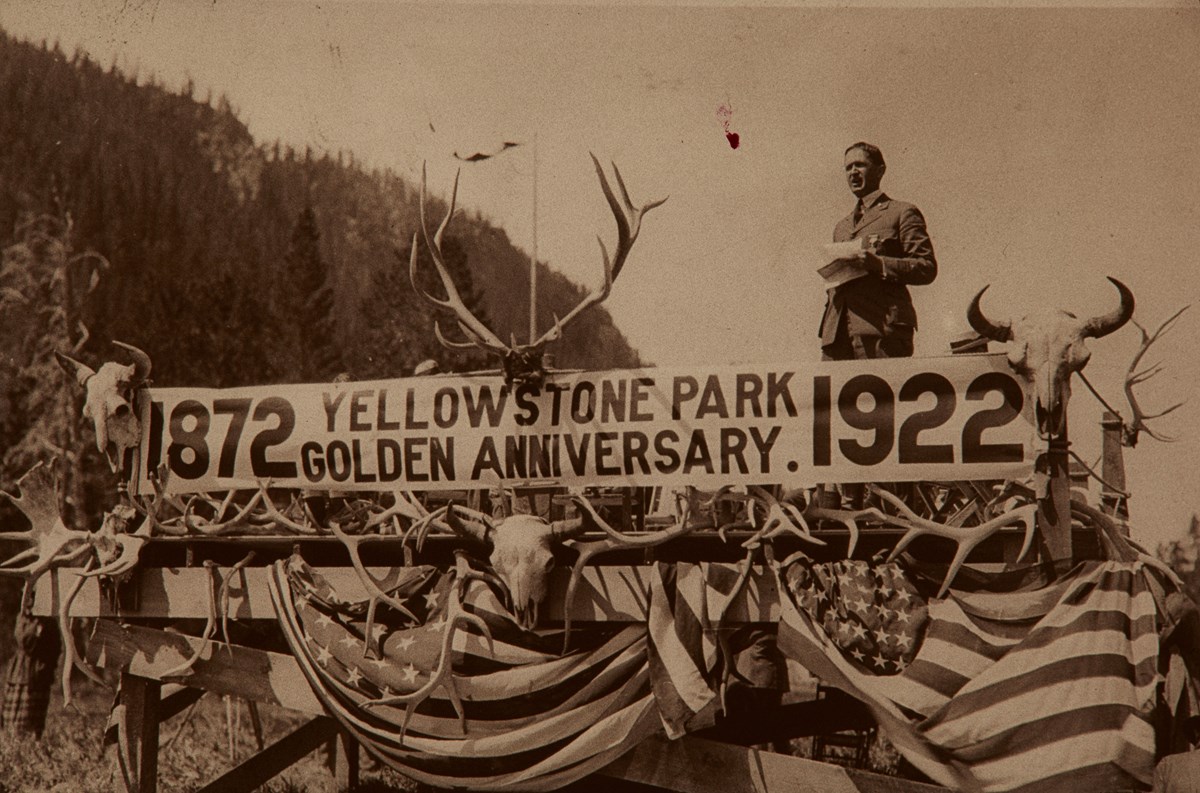 Introduction
Volcanoes and volcanic resources have been a part of the national park idea since Yellowstone—the first world's first national park—was established in 1872. Yellowstone is the site of some of the largest eruptions in the history of the planet. Further, the active magma chamber beneath Yellowstone provides the heat for its iconic geysers and geothermal features.

Mount Rainier National Park, also volcanic, was established in 1899 as the nation's fourth national park, followed by Crater Lake National Park in 1902. Lassen Volcanic National Park, Hawai'i Volcanoes National Park, Devils Tower National Monument, Devils Postpile National Monument, Capulin Volcano National Monument all were established before the creation of the National Park Service in 1916.

Volcanic areas have continued to be added to the National Park System. El Malpais National Monument was established in 1987, and Valles Caldera National Preserve in 2000. Today, nearly 20% of all units in the National Park System contain either volcanoes or volcanic deposits.

National parks provide experiences that help promote understanding of volcanism—one of the most primal forces on Earth—that has formed many of America's most magnificent landscapes.
Establishment Timeline
Parks with Volcanic Primary Significance
March 1, 1872—Yellowstone National Park, Idaho, Montana, and Wyoming

March 2, 1899—Mount Rainier National Park, Washington

May 22, 1902—Crater Lake National Park, Oregon

September 24, 1906—Devils Tower National Monument, Wyoming

May 6, 1907—Lassen Volcanic National Park, California (incorporated Cinder Cone and Lassen Peak National Monuments August 9, 1916)

January 16, 1908—Pinnacles National Park, California (redesignated from a National Monument 2013)

July 6, 1911—Devils Postpile National Monument, California

August 1, 1916—Haleakala National Park, Hawaii (detached from Hawaii National Park 1960)

August 1, 1916—Hawaii Volcanoes National Park, Hawaii (split into Haleakala National Park and Hawaii National Park 1960; latter redesignated Hawaii Volcanoes National Park 1961)

August 9, 1916—Capulin Volcano National Monument, New Mexico (redesignated from Capulin Mountain National Monument 1987)

September 24, 1918—Katmai National Park and Katmai National Preserve, Alaska (originally a National Monument, redesignated by ANILCA 1980)

April 18, 1924—Chiricahua National Monument, Arizona

May 2, 1924—Craters of the Moon National Monument and Craters of the Moon National Preserve, Idaho (preserve designated August 21, 2002)

November 21, 1925—Lava Beds National Monument, California

May 26, 1930—Sunset Crater Volcano National Monument, Arizona (redesignated from Sunset Crater Volcano National Monument 1990)

December 1, 1978—Aniakchak National Monument and Aniakchak National Preserve, Alaska (originally Aniakchak National Monument; designated National Monument and National Preserve by ANILCA 1980)

December 1, 1978—Lake Clark National Park and Lake Clark National Preserve, Alaska (originally a National Monument; redesignated by ANILCA 1980)

December 31, 1987—El Malpais National Monument, New Mexico

December 19, 2014—Valles Caldera National Preserve, New Mexico
Last updated: April 26, 2022