Date: August 11, 2015
Contact: Sgt. Anna Rose, (202) 619-7163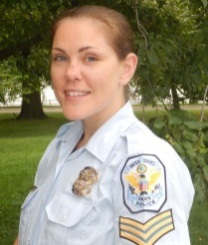 Transition of U.S. Park Police Public Information Officer
Sergeant Lélani Woods was the United States Park Police Public Information Officer for the past 2 years.  Her exceptional dedication to the mission of the USPP, focused on timely and relevant internal and external communication, earned her the respect and trust of those she worked with.  She will now serve the Force in the Internal Affairs Unit.

Sergeant Anna Rose has been selected to replace Sgt. Woods as the new USPP PIO.  She comes to this
assignment from Greenbelt Park, MD where she served as a Patrol Sergeant.  Sgt. Rose joined the U.S. Park Police in 2007.  She was assigned as a patrol officer in the Central District for two years followed by patrol duties on the George Washington Memorial Parkway.  Sgt. Rose completed horse mounted patrol (HMP) training in 2011 and received accolades for top rider and top academic achievement.  Following training she was transferred to the HMP unit and served for 3 years before being promoted to Sergeant in March of 2015.  She holds a Bachelor of Science degree from Austin Peay State University of Tennessee in History with a minor in Economics.
Sgt. Rose can be reached at the following:
Anna_Rose@nps.gov
Desk: (202) 619-7163
Mobile: (202) 556-9181
Twitter: @usparkpolicepio
The Force is extremely proud of its members and of our critical mission in the areas of our
responsibility.  It is through a cooperative and mutual focus with our partners that we are able to proudly and appropriately protect the visitors and communities we serve.