Pavement Preservation: A Proactive Approach
Apply the right treatment to the right road at the right time.
Pavement preservation involves applying a series of low-cost treatments every few years to a road segment, at a minimum in good condition, to halt further deterioration. If the pavement surface and substrate have not significantly deteriorated, relatively inexpensive treatments can keep water out of the pavement, prevent oxidation of the asphalt, and maintain good skid resistance. In addition, the road surface can also be kept looking attractive. All of which are important factors for national park roads.

Some resources will always need to be devoted to building and reconstructing park roads, but with timely applications of carefully selected treatments to maintain and extend a pavement's service life, more resources can be devoted to other transportation infrastructure needs, while maintaining safe, efficient roads for park visitors.
Why roads deteriorate?
All roads begin deteriorating as soon as they are built; subjected to water, freeze-thaw cycles, solar radiation, as well as varying traffic loads. Typically, pavements perform well under loads until a particular point in their life spans and then deteriorate precipitously and eventually fail. The road is then either rehabilitated or totally reconstructed.
Why a proactive approach?
Demands on the road networks in national park units continue to rise with increased visitation. At the same time, funds available for road maintenance grow ever tighter. Pavement preservation has proven to be very cost-effective. Several studies have found that a dollar spent on pavement preservation can save between $6 and $10 in future pavement rehabilitation costs. A more efficient and cost-effective approach is needed to maintain park roads and meet expectations for safety, ride quality, and optimum traffic flow, while protecting the capital investment in the park transportation networks.

Pavement preservation strategies can reduce or eliminate:
the need for costly, time-consuming rehabilitation or reconstruction of roads that have reached or exceeded their useful lives;
traffic disruptions, a major factor in national park units, where there may be only one road available;
work zone dangers, because the maintenance treatments can be applied more quickly than full reconstruction.
Why not worst first?
Traditionally, transportation agencies have allowed the structural condition of a road segment to deteriorate to a fair or good condition before taking action to rehabilitate or totally reconstruct the road. The logic behind this process was to achieve the most useful life out of a road—typically 15 to 20 years for an asphalt segment—and thus maximize the required capital investment.

There are three problems with this reactive approach to road maintenance:
motorists experience progressively worse driving conditions as the road segment ages;
the rehabilitation or total reconstruction process is expensive;
major reconstruction is disruptive to traffic flow, a particularly bad situation in a national park setting.
Pavement Preservation Process: A Best Practice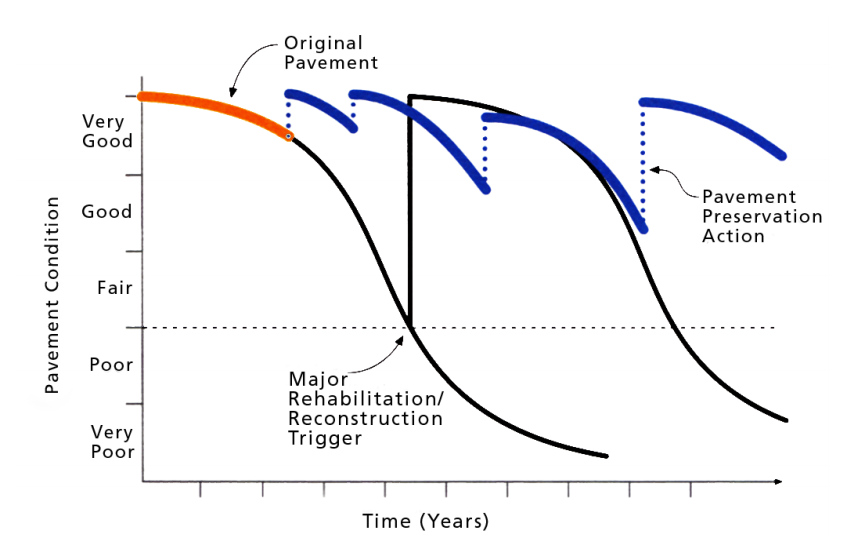 The NPS Federal Lands Transportation Program has adopted the proactive maintenance approach of pavement preservation. This approach calls for keeping good roads in good condition, rather than allowing them to fully deteriorate through their lifecycle. The focus is on strategies that preserve and maintain existing good roads, extending their lifespan. Pavement preservation treatments include chip seals, slurry seals, hot mix asphalt (HMA) overlays, and crack seals, among others. These treatments can be applied to a road segment quickly, relative to major rehabilitation or reconstruction. A key to successful pavement preservation is choosing the right treatment for the right road, at the right time.
Last updated: January 29, 2018