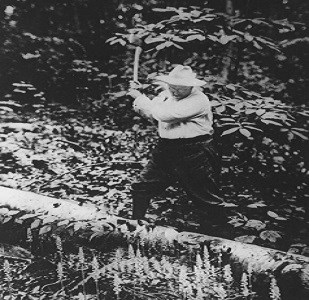 "Sometimes when I consider what tremendous consequences come from little things ...I am tempted to think...there are no little things." -Bruce Barton
People and their environments continuously interact. The environment is where people live and we rely on it to support and sustain life. The American environment today is largely a human artifact, so thoroughly has human occupation affected all its features. Cuyahoga Valley National Recreation Area, which includes portions of the Ohio and Erie Canal, for example, is a cultural landscape that links natural and human systems, including cities, suburbs, towns, countryside, forest, wilderness, and water bodies. Consider the interplay between human activity and the environment as reflected in a place like Hoover Dam, a National Historic Landmark.
The use and development of our physical surroundings are rooted in evolving perceptions and attitudes. For example, sites such as John Muir National Historic Site in California and Sagamore Hill National Historic Site in New York, the home of President Theodore Roosevelt, reflect the contributions of leading conservationists.