Iolani Palace: A Hawaiian Place of History, Power, and Prestige -- Lesson Plan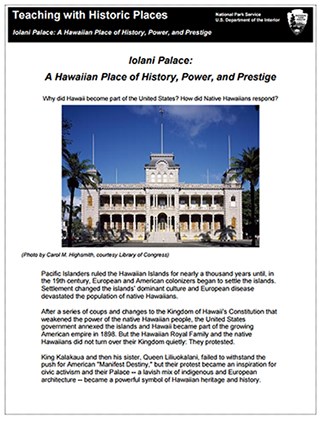 Why did Hawaii become part of the United States? How did Native Hawaiians respond?
Pacific Islanders ruled the Hawaiian Islands for nearly a thousand years until, in the 19th century, European and American colonizers began to settle the islands. Settlement changed the islands' dominant culture and European disease devastated the population of native Hawaiians. After a series of coups and Constitutional changes, the United States government annexed the islands and Hawaii became part of the growing American empire in 1898. But the Hawaiian Royal Family and the native Hawaiians did not turn over their Kingdom quietly: They protested. King Kalakaua and then his sister, Queen Liliuokalani, failed to withstand the push for American "Manifest Destiny," but their protest became an inspiration for civic activism and their Palace -- a lavish mix of indigenous and European architecture -- became a powerful symbol of Hawaiian heritage and history.
Where it fits into the curriculum
The lesson could be used in middle and high school units relating to Hawaiian history, 19th Century American Expansionism, Globalization, Cultural Exchanges, Colonization, and Architecture.
Time Period: Late 19th Century and early 20th Century
Objectives
1. To explain how U.S. imperialism affected the people and landscape of foreign territories;
2. To identify the ways European and American influence affected the Hawaiian Islands in the late nineteenth century;
3. To describe the Hawaiian and American arguments for and against annexation;
4. To identify a historical site of protest and explain why citizens choose to exercise their 1st Amendment rights at that location.

National History and Social Studies Standards
This lesson relates to the UCLA National Center for History in the Schools National History Standards:
US History Era 6, Standard 4B: The student understands the roots and development of American expansionism and the causes and outcomes of the Spanish-American War.

US History Era 7, Standard 2A: The student understands how the American role in the world changed in the early 20th century.
This lesson relates to
Thematic Strands
from the National Council for the Social Studies'
National Standards
:


Theme I: Culture;
Theme II: Time, Continuity, and Change;
Theme III: People, Places, and Environments;
Theme IV: Individual Development and Identity;
Theme IX: Global Connections;
Theme X: Civic Ideals and Practices.
Materials Found in the Full Lesson
Setting the Stage: This short-essay with background information is intended for the teacher's reference, to use in a lecture or answer questions students might have during the lesson.


Locating the Site:

Maps orient the students and encourage them to think about how place affects culture and society.

Accompanying Question Set available in the Full Lesson (PDF).

Map 1: Territorial Acquisitions of the United States

(

JPG

,

TIF)


Map 2: Honolulu, Oahu, 1901

(

JPG

,

TIF

)
Determining the Facts: Primary and secondary source readings for students. Accompanying Question Sets available in the Full Lesson PDF.

Reading 1: Hawaiian History.
Reading 2: A Song by King Kalakaua, circa 1881.
Reading 3: The Iolani Palace.


Reading 4:

Letter from Queen Liliuokalani of Hawaii to President William McKinley of the United States, June 17, 1897.
Visual Evidence:

Photos and other documents for students to examine.

Select JPG for standard size or TIF to download a larger file.

Download the

Full Lesson (PDF)

to access the Question Sets for each image.
| | |
| --- | --- |
| Photo 1: The first Iolani Palace, built in 1844. | Photo 2: Historic image of Iolani Palace, completed in 1882. |
| | |
| Photo 3: Iolani Palace Throne Room, 1880s. | Photo 4: US Marines Landing in Honolulu during the Overthrow of Liliuokalani, 1893. |
| | |
| Illustration 1: Patient waiters are no losers, by Louis Dalrymple. Published in New York City, January 13, 1897. | |
| | |
"Putting it all Together" Activities
Download the
Full Lesson (PDF)
to access these post-lesson activities. These are intended to
deepen your students' engagement with the topics and themes introduced in the lesson, and to help them develop essential skills.


Activity 1: Extra! Extra! Exploring 19th Century Annexation Op-Eds

Activity 2: Discover Civic Activism at Iolani Palace and in Your Community

Activity 3: Whose Destiny? Study the effects of American expansion on indigenous cultures
About this lesson
This lesson is based on the National Register of Historic Places file, "Iolani Palace" (with photos). This lesson was published in 2016. The lesson was written by Ben Hurwitz, graduate student and National Council for Preservation Education intern working in the Office of Outreach, Education and Training. It was edited by Teaching with Historic Places staff at NPS Cultural Resources Office of Interpretation & Education. This lesson is one in a series that brings the important stories of historic places into classrooms across the country.
Last updated: June 26, 2018