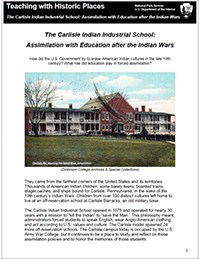 Contents
| Introduction
| Where it Fits Into the Curriculum (Objectives and Standards)
| Materials in the Lesson (Readings, Maps, Visual Evidence)
| Post-Lesson Activities
| More Resources
| About

How did the US Government try to erase American Indian cultures in the late 19th century? What role did education play in forced assimilation?
They came from the farthest corners of the United States and its territories: Tens of thousands of American Indian children, some barely teens, boarded trains, stagecoaches, and ships bound for Carlisle, Pennsylvania, in the wake of the 19th century's Indian Wars. Children from over 100 distinct cultures left home to live at an off-reservation school at Carlisle Barracks, an old military base.
The Carlisle Indian Industrial School opened in 1879 and operated for nearly 30 years with a mission to "kill the Indian" to "save the Man." This philosophy meant administrators forced students to speak English, wear Anglo-American clothing, and act according to U.S. values and culture. The Carlisle model spawned 24 more off-reservation schools. The Carlisle campus today is occupied by the U.S. Army War College, but it continues to be a place to study and reflect on those assimilation policies and to honor the memories of those students.