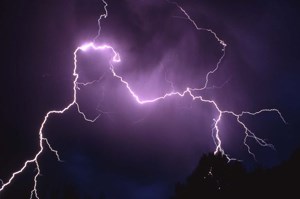 Defining Key Terms
Sound moves through a medium such as air or water as waves. It is measured in terms of frequency and amplitude.
Frequency, sometimes referred to as pitch, is the number of times per second that a sound pressure wave repeats itself. A drum beat has a much lower frequency than a whistle, and a bullfrog call has a lower frequency than a cricket. The lower the frequency, the fewer the oscillations. High frequencies produce more oscillations. The units of frequency are called hertz (Hz). Humans with normal hearing can hear sounds between 20 Hz and 20,000 Hz. Frequencies above 20,000 Hz are known as ultrasound. When your dog tilts his head to listen to seemingly imaginary sounds, he is tuning in to ultrasonic frequencies, as high as 45,000 Hz. Bats can hear at among the highest frequencies of any mammal, up to 120,000 Hz. They use ultrasonic vocalizations as sonar, allowing them to pursue tiny insects in the dark without bumping into objects.

At the other end of the spectrum are very low-frequency sounds (below 20 Hz), known as infrasound. Elephants use infrasound for communication, making sounds too low for humans to hear. Because low frequency sounds travel farther than high frequency ones, infrasound is ideal for communicating over long distances.