Benefits of Views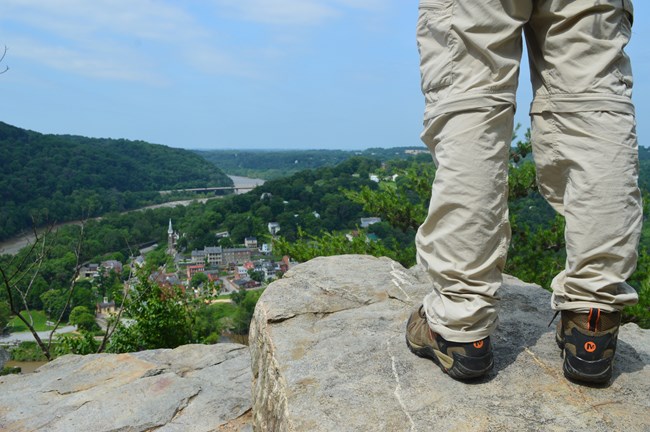 Many people come to parks to enjoy the view – from awe-inspiring vistas to historic looks back in time. We know this, because our visitors tell us! One study that looked at visitor surveys from national parks around the country found that 90% of visitors identify scenic views as a "very" or "extremely" important thing to protect.
The benefits of views are plentiful and extend beyond appreciation of the beautiful. Hikers and climbers will often celebrate their physical commitment of summiting a peak by taking in the view. The view, which may only be available to those who summit, symbolizes an accomplishment and a reward for the effort. Visitors seeking solitude may find natural views the perfect prescription in alleviating the stress and anxiety of everyday life. Here are some benefits you can keep in mind as you savor the sights in your park.
Improve Your State of Mind
Being in nature can boost your mood and improve your mental health. Researchers at Stanford University found that spending time outdoors reduces stress, calms anxiety, and can lead to a lower risk of depression. When you spend time in nature, you can slow down and use your senses - taking in the sights, smells, and feelings around you. Spending time in nature has so many benefits that there's a global movement to promote Healthy Parks, Healthy People.
Promote Physical Health
Spending time enjoying the view in parks may encourage you to move your body! Maybe you want to take a short walk and enjoy the view from a different angle, or maybe looking out over a vista will inspire you to hike and experience the place in a new way. Who knew taking in the view could lead to a great workout! Learn more about hiking in parks.
Boost the Economy
In his 1916 book Making a Business of Scenery, Robert Sterling Yard, a key supporter behind the founding of the NPS, recognized the "incalculable value" of scenery to the national economy and the public's mental and physical well-being. In more recent and tangible terms, national parks attracted 318 million visitors who spent over 20 billion dollars in the communities and regions near the parks in 2018. This spending grows throughout the economic system resulting in over 40 billion dollars of impact on the overall economy. Learn more about how this breaks down by state and by park on our visitor spending effects web page.
Last updated: May 7, 2020