National Natural Landmarks
Worthington Glacier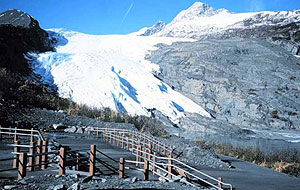 Worthington Glacier
As a typical small valley glacier, Worthington Glacier includes fine examples of most glacial features from accumulation areas to terminal moraines. Partially located within Worthington Glacier State Recreation Site, it is one of the most road accessible glaciers in Alaska. Visitors can park their vehicle nearby and then walk close to the face of the glacier.
Location: Alaska, AK ; Alaska , AK
Year designated: 1968
Acres: 5,774
Ownership: State
---
← Back to listing of all states and territories.
Please remember, National Natural Landmarks (NNLs) are not national parks. NNLs are owned by a variety of public and private entities and allowing visitation is at their discretion. Many NNL sites maintain public websites where additional information may be found.