National Natural Landmarks
Valles Caldera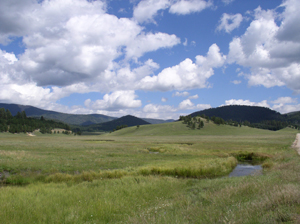 Valles Caldera
The Valles Caldera is a large circular depression, 12 to 15 miles in diameter, with scalloped walls rising from a few hundred to more than 2,000 feet above the present floor. Located primarily within the Valles Caldera National Preserve, the site is one of the largest calderas in the world and is an excellent example of a caldera advanced in history but still retaining the essential structures.
Location: Rio Arriba County, NM ; Rio Arriba County, NM ; Sandoval County, NM ; Sandoval County, NM
Year designated: 1975
Acres: 99,218
Ownership: Federal
---
← Back to listing of all states and territories.
Please remember, National Natural Landmarks (NNLs) are not national parks. NNLs are owned by a variety of public and private entities and allowing visitation is at their discretion. Many NNL sites maintain public websites where additional information may be found.