National Natural Landmarks
Unga Island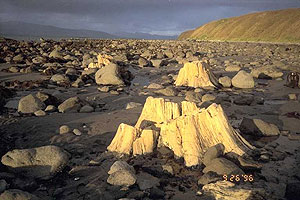 Unga Island
Exposures of petrified logs and stumps along the shores of Unga Island are remnants of a sequoia or metasequoia forest buried as a result of volcanic activity in the Tertiary Period. The petrified forest remains hold scientific significance for the passage of species between Asia and America and help portray the climate and environment of the Aleutian Arc before humans inhabited Alaska. The site is part of the Alaska Maritime National Wildlife Refuge.
Location: Alaska, AK ; Alaska , AK
Year designated: 1968
Acres: 6,464
Ownership: State, Private
---
← Back to listing of all states and territories.
Please remember, National Natural Landmarks (NNLs) are not national parks. NNLs are owned by a variety of public and private entities and allowing visitation is at their discretion. Many NNL sites maintain public websites where additional information may be found.