National Natural Landmarks
Two Ocean Pass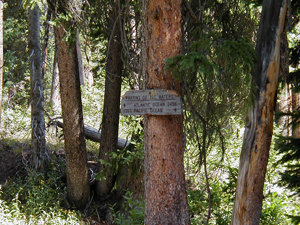 Two Ocean Pass
Situated on the Continental Divide, Two Ocean Pass is located in the Bridger-Teton National Forest. Waters from the meadow at this pass divide to flow in opposite directions, toward the Gulf of Mexico and toward the Pacific Ocean. The site is the immigration route of the cutthroat trout from the Snake River (Pacific drainage) to Yellowstone Lake of the Missouri River Drainage (Atlantic drainage). It illustrates a natural phenomenon of animal distribution and dispersal.
Location: Teton County, WY ; Teton County, WY
Year designated: 1965
Acres: 2,124
Ownership: Federal
---
← Back to listing of all states and territories.
Please remember, National Natural Landmarks (NNLs) are not national parks. NNLs are owned by a variety of public and private entities and allowing visitation is at their discretion. Many NNL sites maintain public websites where additional information may be found.