National Natural Landmarks
Summit Lake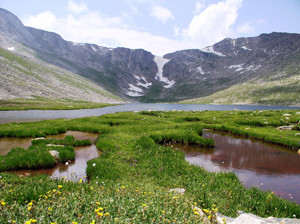 Summit Lake
The Summit Lake area is one of the best examples of Arctic tundra in the conterminous United States. Located within Summit Lake Park at nearly 13,000 feet elevation, this area provides habitat for a variety of rare alpine-arctic plants, some of which occur only here and at the Arctic Circle.
Location: Clear Creek County, CO ; Clear Creek County, CO
Year designated: 1965
Acres: 160
Ownership: Municipal
---
← Back to listing of all states and territories.
Please remember, National Natural Landmarks (NNLs) are not national parks. NNLs are owned by a variety of public and private entities and allowing visitation is at their discretion. Many NNL sites maintain public websites where additional information may be found.