National Natural Landmarks
Spanish Peaks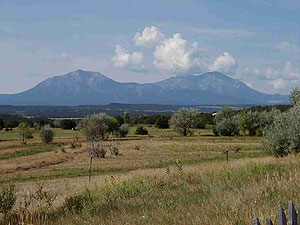 Spanish Peaks
Spanish Peaks, located within the San Isabel National Forest, is one of the best known examples of exposed igneous dikes. Dikes are formed when molten igneous material is forced into a fracture or fault before becoming solidified. There may be over 500 such dikes in the area.
Location: Huerfano County, CO ; Huerfano County, CO ; Las Animas County, CO ; Las Animas County, CO
Year designated: 1976
Acres: 37,678
Ownership: Federal, Private
---
← Back to listing of all states and territories.
Please remember, National Natural Landmarks (NNLs) are not national parks. NNLs are owned by a variety of public and private entities and allowing visitation is at their discretion. Many NNL sites maintain public websites where additional information may be found.