National Natural Landmarks
Simeonof National Wildlife Refuge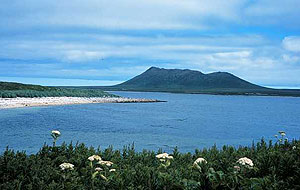 Simeonof National Wildlife Refuge
One of the islands in the Shumagin Island Group, Simeonof Island, within the Alaska Maritime National Wildlife Refuge, is an ancestral hauling ground for sea otters. The rich kelp and eel grass beds in tideland waters surrounding the island are rich in marine life providing ideal habitat for sea otters. Upland areas on the island support Arctic fox, ground squirrels, river otters, and various species of waterfowl, shorebirds and passerines.
Location: Alaska, AK
Year designated: 1968
Acres: 26,010
Ownership: Federal
---
← Back to listing of all states and territories.
Please remember, National Natural Landmarks (NNLs) are not national parks. NNLs are owned by a variety of public and private entities and allowing visitation is at their discretion. Many NNL sites maintain public websites where additional information may be found.