National Natural Landmarks
San Andreas Fault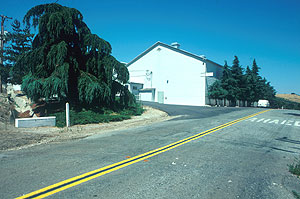 San Andreas Fault
Located along the San Andreas at the De Rose Vineyards, San Andreas Fault is one of the best illustrations of earth displacement caused by small crustal movements. One-half of the De Rose Vineyard's wine tasting building has moved about eight inches in ten years.
Location: San Benito County, CA ; San Benito County, CA
Year designated: 1965
Acres: 1
Ownership: Private
---
← Back to listing of all states and territories.
Please remember, National Natural Landmarks (NNLs) are not national parks. NNLs are owned by a variety of public and private entities and allowing visitation is at their discretion. Many NNL sites maintain public websites where additional information may be found.