National Natural Landmarks
Roxborough State Park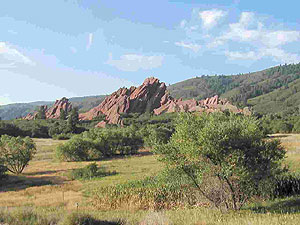 Roxborough State Park
Roxborough State Park provides an excellent example of the tilted and faulted sedimentary strata of the Colorado front range environment. The site contains significant fossil remains, fine exposures of hogbacks, unusual erosional patterns in Fountain sandstone, and atypical occurrences of at least two front-range plant communities.
Location: Douglas County, CO ; Douglas County, CO
Year designated: 1980
Acres: 743
Ownership: State
---
← Back to listing of all states and territories.
Please remember, National Natural Landmarks (NNLs) are not national parks. NNLs are owned by a variety of public and private entities and allowing visitation is at their discretion. Many NNL sites maintain public websites where additional information may be found.