National Natural Landmarks
Redoubt Volcano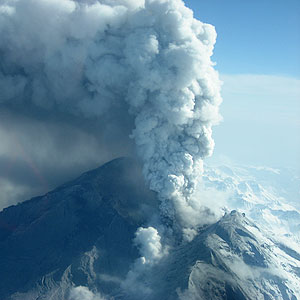 Redoubt Volcano. Photo by P. Spencer.
An active stratovolcano, Redoubt Volcano is the second highest of the 76 major volcanoes of the Alaska Peninsula and Aleutian Islands. Located within Lake Clark National Park, extensive glaciers and ice fields cover much of the volcano. There was a major eruption of Redoubt in 2009, with ash deposition throughout southcentral Alaska nearly 20 years after its last major eruption.
Location: Alaska, AK ; Alaska , AK
Year designated: 1976
Acres: 37,720
Ownership: Federal
---
← Back to listing of all states and territories.
Please remember, National Natural Landmarks (NNLs) are not national parks. NNLs are owned by a variety of public and private entities and allowing visitation is at their discretion. Many NNL sites maintain public websites where additional information may be found.