National Natural Landmarks
Rainmaker Mountain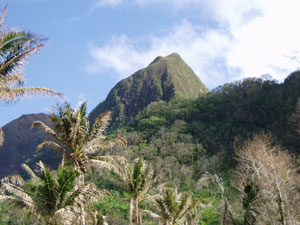 Rainmaker Mountain
Rainmaker Mountain, one of the same extrusions as Matafao Peak, is an outstanding example of several gigantic plugs that created Tutuila Island.
Location: American Samoa, AS ; American Samoa , AS
Year designated: 1972
Acres: 170
Ownership: Communal Lands
---
← Back to listing of all states and territories.
Please remember, National Natural Landmarks (NNLs) are not national parks. NNLs are owned by a variety of public and private entities and allowing visitation is at their discretion. Many NNL sites maintain public websites where additional information may be found.