National Natural Landmarks
Ramsey Canyon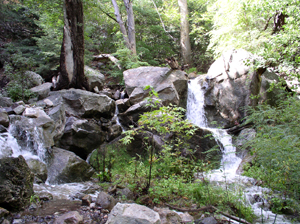 Ramsey Canyon
Ramsey Canyon is a stream-cut, vertical-sided gorge. Cold air drainage from the upper canyon results in a well-defined microclimatic habitat that supports Mexican flora and fauna and plants that normally occur only at higher elevations. The site is also frequented by more species of hummingbirds than any other area in the United States.
Location: Cochise County, AZ ; Cochise County, AZ
Year designated: 1965
Acres: 279
Ownership: Private
---
← Back to listing of all states and territories.
Please remember, National Natural Landmarks (NNLs) are not national parks. NNLs are owned by a variety of public and private entities and allowing visitation is at their discretion. Many NNL sites maintain public websites where additional information may be found.