National Natural Landmarks
Rainbow Basin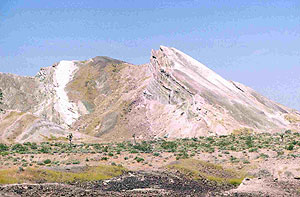 Rainbow Basin
Comprised of deep erosion canyons with rugged rims, Rainbow Basin is an outstanding example of geologic processes. The site contains significant fossil evidence of insects, larger Miocene mammals and mammal tracks.
Location: San Bernardino County, CA ; San Bernardino County, CA
Year designated: 1966
Acres: 1,961
Ownership: Federal
---
← Back to listing of all states and territories.
Please remember, National Natural Landmarks (NNLs) are not national parks. NNLs are owned by a variety of public and private entities and allowing visitation is at their discretion. Many NNL sites maintain public websites where additional information may be found.