National Natural Landmarks
Puerto Mosquito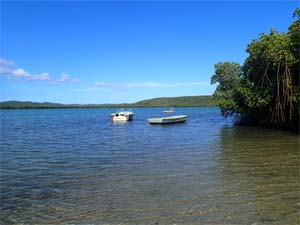 Puerto Mosquito
Puerto Mosquito is a deep inlet in the cliffed southern coast of Vieques Island. The most important element of the fauna that gives the bay uniqueness is the high permanent concentrations of dinoflagellates, in particular the luminescent Pyrodinium bahamanse. The bay has the highest concentrations of bioluminescent dinoflagellates of the three luminescent bays in Puerto Rico and is considered the best example of a bioluminescent bay in the United States.
Location: Puerto Rico, PR ; Puerto Rico , PR
Year designated: 1980
Acres: 2,402
Ownership: Federal, Commonwealth of Puerto Rico, Municipal
---
← Back to listing of all states and territories.
Please remember, National Natural Landmarks (NNLs) are not national parks. NNLs are owned by a variety of public and private entities and allowing visitation is at their discretion. Many NNL sites maintain public websites where additional information may be found.