National Natural Landmarks
Pondicherry Wildlife Refuge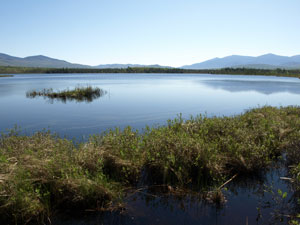 Pondicherry Wildlife Refuge
Within Pondicherry Wildlife Refuge are two shallow, warm water ponds, surrounded by marsh, bog and forest that support an abundance of submerged, floating, and emergent vegetation, and a great variety of birds. The wetland complex is the type locality for a species of pondweed and spike-rush.
Location: Coos County, NH ; Coos County, NH
Year designated: 1972
Acres: 304
Ownership: State, Private
---
← Back to listing of all states and territories.
Please remember, National Natural Landmarks (NNLs) are not national parks. NNLs are owned by a variety of public and private entities and allowing visitation is at their discretion. Many NNL sites maintain public websites where additional information may be found.