National Natural Landmarks
Porcupine Mountain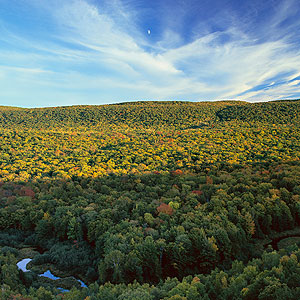 Porcupine Mountain. Photo by C. Jordan.
Porcupine Mountain contains a large tract of white pine, the best and largest stand of virgin northern hemlock in the lake states, and the largest relatively undisturbed northern hemlock hardwood forest west of the Adirondacks. The site contains excellent examples of wave-cut beaches marking former glacial lake shorelines.
Location: Gogebic County, MI ; Gogebic County, MI ; Ontonagon County, MI ; Ontonagon County, MI
Year designated: 1984
Acres: 42,812
Ownership: State
---
← Back to listing of all states and territories.
Please remember, National Natural Landmarks (NNLs) are not national parks. NNLs are owned by a variety of public and private entities and allowing visitation is at their discretion. Many NNL sites maintain public websites where additional information may be found.