National Natural Landmarks
Patagonia-Sonoita Creek Sanctuary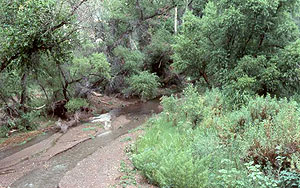 Patagonia-Sonoita Creek Sanctuary
Patagonia-Sonoita Creek Sanctuary is a good example of a cottonwood-willow riparian forest and is one of the last permanent stream-bottom habitat areas in southern Arizona. The site retains a substantial part of the indigenous aquatic biota, including the endangered Gila topminnow. The birdlife includes several Mexican species and is the only known nesting site in the country for the rare rose-throated becard.
Location: Santa Cruz County, AZ ; Santa Cruz County, AZ
Year designated: 1970
Acres: 314
Ownership: Private
---
← Back to listing of all states and territories.
Please remember, National Natural Landmarks (NNLs) are not national parks. NNLs are owned by a variety of public and private entities and allowing visitation is at their discretion. Many NNL sites maintain public websites where additional information may be found.