National Natural Landmarks
Paynes Prairie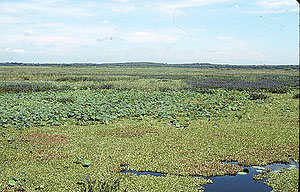 Paynes Prairie
The largest and most diverse freshwater marsh in northern Florida, Paynes Prairie is a superlative example of prairie formation in a karst area. Located within Paynes Prairie Preserve State Park, it is a major wintering ground for many species of waterfowl as well as providing habitat for other wildlife, including two endangered species. The site contains the Alachua sink, one of Florida's largest and most famous sinks.
Location: Alachua County, FL
Year designated: 1974
Acres: 13,716
Ownership: State, Private
---
← Back to listing of all states and territories.
Please remember, National Natural Landmarks (NNLs) are not national parks. NNLs are owned by a variety of public and private entities and allowing visitation is at their discretion. Many NNL sites maintain public websites where additional information may be found.