National Natural Landmarks
Panola Mountain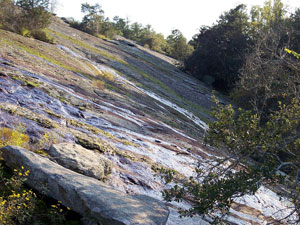 Panola Mountain
Located within Panola Mountain State Park, Panola Mountain is the most natural and undisturbed monadnock of exposed granitic rock in the Piedmont biophysiograpic province. Successional plant communities from base rock to oak hickory forest are present here. There are a number of characteristic granite outcrop plants, including granite stonecrop, a rare endemic species.
Location: Rockdale County, GA ; Rockdale County, GA
Year designated: 1980
Acres: 281
Ownership: State
---
← Back to listing of all states and territories.
Please remember, National Natural Landmarks (NNLs) are not national parks. NNLs are owned by a variety of public and private entities and allowing visitation is at their discretion. Many NNL sites maintain public websites where additional information may be found.