National Natural Landmarks
Palisades of the Hudson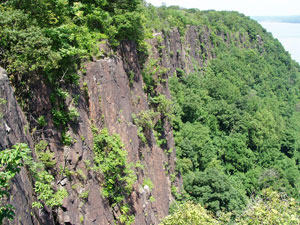 Palisades of the Hudson
Palisades of the Hudson is the best example of a thick diabase sill formation known in the United States. Columnar jointing, an olivine zone and thermal metamorphic effects are attributes found in rare combination at this site. The glaciated crest provides impressive evidence of the Pleistocene glacier.
Location: Bergen County, NJ ; Bergen County, NJ ; Rockland County, NY ; Rockland County, NY
Year designated: 1983
Acres: 1,900
Ownership: State
---
← Back to listing of all states and territories.
Please remember, National Natural Landmarks (NNLs) are not national parks. NNLs are owned by a variety of public and private entities and allowing visitation is at their discretion. Many NNL sites maintain public websites where additional information may be found.