National Natural Landmarks
Palo Duro Canyon State Park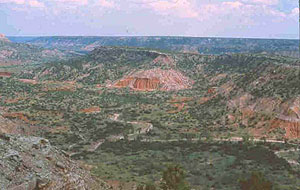 Palo Duro Canyon State Park
Palo Duro Canyon is a canyon cut by waters of a fork of the Red River. This spectacular canyon contains cross-sectional views of sedimentary rocks representing four geological periods and is an excellent example of a landform that has been created by running water. Triassic and Pliocene vertebrate fossils have been found in the area.
Location: Armstrong County, TX ; Armstrong County, TX ; Randall County, TX ; Randall County, TX
Year designated: 1976
Acres: 16,308
Ownership: State
---
← Back to listing of all states and territories.
Please remember, National Natural Landmarks (NNLs) are not national parks. NNLs are owned by a variety of public and private entities and allowing visitation is at their discretion. Many NNL sites maintain public websites where additional information may be found.