National Natural Landmarks
No. 5 Bog and Jack Pine Stand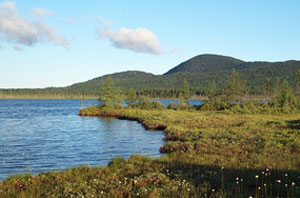 No. 5 Bog and Jack Pine Stand
The No. 5 Bog and Jack Pine Stand contains a large peatland that exhibits a diversity of boreal vegetation associations and well-defined, surficial glacial features. A mature stand of jack and red pine occurs adjacent to the peatland. It is the only large, intermontane peatland and one of the few expansive, virgin landscapes in the northeastern United States.
Location: Somerset County, ME ; Somerset County, ME
Year designated: 1984
Acres: 959
Ownership: State, Private
---
← Back to listing of all states and territories.
Please remember, National Natural Landmarks (NNLs) are not national parks. NNLs are owned by a variety of public and private entities and allowing visitation is at their discretion. Many NNL sites maintain public websites where additional information may be found.