National Natural Landmarks
Nancy Brook Virgin Spruce Forest and Scenic Area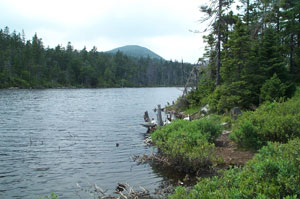 Nancy Brook Virgin Spruce Forest and Scenic Area
The montane stand of red spruce within Nancy Brook Virgin Spruce Forest and Scenic Area, may be the largest virgin forest tract in the northeastern United States. Located within the White Mountain National Forest, the diverse landscape at the site includes classic high elevation ponds, landslides, steep valley walls, cascades, boulder streams, beaver clearings, mountain slopes, ridges, summits, and distant views.
Location: Carroll County, NH ; Carroll County, NH ; Grafton County, NH ; Grafton County, NH
Year designated: 1987
Acres: 1,590
Ownership: Federal
---
← Back to listing of all states and territories.
Please remember, National Natural Landmarks (NNLs) are not national parks. NNLs are owned by a variety of public and private entities and allowing visitation is at their discretion. Many NNL sites maintain public websites where additional information may be found.